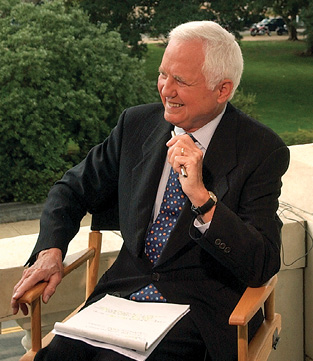 Fred P. Graham, whose career as a legal affairs reporter, television anchor and author spanned more than four decades, died Dec. 28 at his home in Washington, D.C. He was 88.
Born in Little Rock, Arkansas, Graham earned his undergraduate degree from Yale University and served in the U.S. Marine Corps in Korea and Japan before earning his law degree at Vanderbilt. During law school he worked as a reporter for The Tennessean. He continued his legal studies at the University of Oxford in England and then practiced law in Nashville, where he had attended high school, before moving to Washington to serve as chief counsel of a Judiciary subcommittee under Sen. Estes Kefauver (D-Tenn.) and as an aide to Labor Secretary W. Willard Wirtz.
In 1965, Graham became the first lawyer assigned to cover the U.S. Supreme Court for The New York Times while the court was led by Chief Justice Earl Warren. While covering the 1971 Pentagon Papers case, in which the court blocked an attempt by the Nixon administration to prevent The New York Times and The Washington Post from publishing a secret history of the Vietnam War, Graham hid a copy of the documents in a freezer in his garage. His reporting also detailed cases arising from civil rights murders in the South, free press versus privacy issues, questions over prayer in public schools, legal struggles over abortion rights, and protections for criminal defendants.
Graham joined the CBS television network in 1972 to report on the Watergate scandal. He spent the next 15 years working as the network's legal correspondent to demystify the practices and deliberations of Supreme Court justices whom he described, at a time when no women sat on the high court, as "isolated men with limited political experience, lifetime tenure and long black robes."
Graham was laid off by CBS in 1987, when the network entered what he later described as its "infotainment phase." He was a news anchor at WKRN-TV, the ABC affiliate in Nashville, for two years before being hired as the first anchor for Court TV, a new network launched soon after television cameras were allowed in courtrooms to provide live coverage of criminal trials. His coverage of the trial of O.J. Simpson vaulted the network to national prominence. He later covered the 1992 acquittals of four Los Angeles police officers who had been videotaped beating black motorist Rodney King during an arrest.
Graham wrote several books, including The Self-Inflicted Wound (1970), about the Warren Court; Press Freedoms Under Pressure (1972), about First Amendment law; The Alias Program (1977), about the witness protection program; and Happy Talk: Confessions of a TV Newsman (1990). He retired from Court TV, where he had become managing editor, in 2008.
Graham is survived by his wife, Skila Harris, and three children from his first marriage.
—GRACE RENSHAW