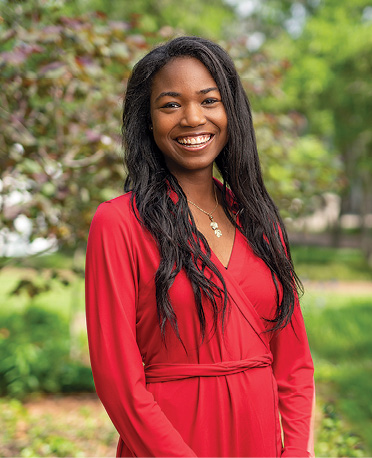 Jasmine Greer, BE'16, applied to only one MBA program: Vanderbilt Owen Graduate School of Management. She wanted to stay at Vanderbilt and chose Owen not only for its top-flight academic program but also its collaborative environment.
At Owen, Greer has immersed herself in several entrepreneurial pursuits. She and her team won first place in the Tech Venture Challenge at Vanderbilt Center for Technology Transfer and Commercialization for their pitch to investors to bring to market a medical device for people with heart conditions. She also won the first round of the $1 million Hult Competition—dubbed the "Nobel Prize for Students"—which challenges participants to create meaningful jobs for young people by launching a social enterprise.
Greer makes time to serve others, including as president of the Owen Black Students Association and as a senator in the Owen Student Government Association, where she hopes to foster inclusion. "Owen's a great place," Greer says, "and more diversity would further enrich the experience."
Greer was able to pursue her MBA in part because she was awarded the Cecil and Amy Jorgensen Conlee Diversity Scholarship. "I feel incredibly blessed to receive this scholarship," Greer says, "and I want to give back to others by creating a scholarship of my own in the future."
Cecil Conlee, BA'58, and Amy Jorgensen Conlee, MBA'77, personally understand the power of philanthropy to transform lives. "We both went to Vanderbilt on scholarship," Cecil says. "We both benefited greatly from our experiences, and this is something we want to share with others."
Their generosity and gratitude spurred them to create scholarships at Vanderbilt, which include supporting women from underrepresented minorities attending Owen.
"Diversity has enriched my life," Amy says.
She knows firsthand. Amy was one of the first female managing directors at Morgan Stanley's New York office and recognizes how essential a diverse workforce is in the global marketplace. She also served many years as a volunteer teacher in a socioeconomically and racially diverse girls' school.
"In business, diversity results in better decisions, better companies and a better society," Amy says.
—Morgan Kroll