Media Inquiries
Latest Stories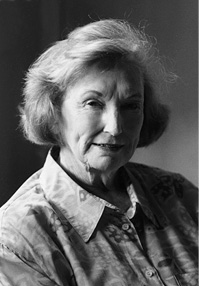 Elizabeth Spencer, a celebrated author whose irony-laced novels and short stories explored family strife and buried histories, died Dec. 22 at her home in Chapel Hill, North Carolina. She was 98.
Spencer's seven-decade career, beginning with the 1948 novel Fire in the Morning, was one of the longest in American letters. She had continued publishing new work as recently as 2014, when, at 92, she released a widely praised story collection titled Starting Over, for which she won the Rea Award for the Short Story.
Spencer wrote nine novels and novellas and dozens of stories, many of them published in The New Yorker and collected in her 2001 anthology The Southern Woman. She was a five-time winner of the O. Henry Award for short stories and in 2007 was awarded the PEN/Malamud Award for short fiction.
While the South's wilting heat and drawling dialects featured in much of Spencer's work, it was only after she left the region for Italy, on a Guggenheim Fellowship, and then Montreal, that she produced her best-known books, including the 1960 novella The Light in the Piazza.
The novella sold about 2 million copies and was adapted into a 1962 film starring Olivia de Havilland, Yvette Mimieux and George Hamilton. A musical version opened on Broadway in 2005 and received six Tony Awards, including best original score and best performance for the actress Victoria Clark, playing Margaret.
Born in Carrollton, Mississippi, July 19, 1921, she studied English at Belhaven College in Jackson, Mississippi, where she befriended Eudora Welty after inviting the writer to address the school literary society.
Her later novels included The Salt Line (1984), about the destruction of the Gulf Coast by Hurricane Camille in 1969, and The Night Travellers (1991), a Vietnam War–era story about a Southern ballet dancer who travels to Canada. She also published a memoir, Landscapes of the Heart (1998), in which she describes her time at Vanderbilt as critical to her early development as a writer. She was initially drawn to the university because of its association with the Fugitives, a group of poets and literary scholars at Vanderbilt, and she likened her arrival on campus to entering "a sacred grove." Although she strongly disagreed with Fugitive poet Donald Davidson's reactionary views on race, she described her literary studies with him as "absolutely defining."
She was predeceased by her husband, John Rusher, an English businessman, whom she married in 1956. Spencer is survived by a niece.
—STAFF REPORTS