Career Booster: New student-athlete business fellowship launched
Feb. 17, 2020, 1:36 PM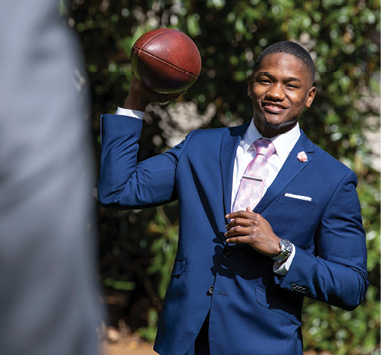 Vanderbilt has launched the only advanced business immersion program in the country designed specifically for student-athletes. The Accelerator® Business Fellowship for Student-Athletes is a two-week certificate program that gives participants the opportunity to take foundational and advanced courses from renowned faculty, learn directly from business executives, and collaborate on team projects that devise real-world business solutions.
The program eliminates one of the biggest obstacles for student-athletes—their limited free time—and allows them to create a personalized program of study to boost their job prospects.
"We are excited to offer this Accelerator fellowship program for student-athletes to augment their career development," says M. Eric Johnson, Ralph Owen Dean of Vanderbilt's Owen Graduate School of Management. "Leadership is a contact sport. The fellowship will spark student-athletes to activate their business careers after they have finished competing on the field or court."
The Owen School hosts the inaugural cohort of fellows in May.
---