Media Inquiries
Latest Stories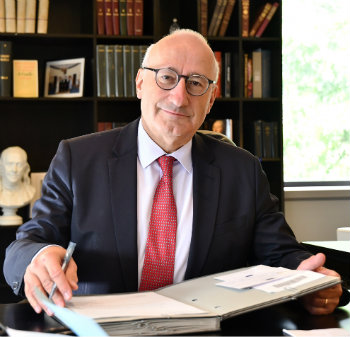 Philippe Étienne, the French ambassador to the United States, will discuss "French-American Relations in 2020" at a lunch-and-learn event open to all Vanderbilt faculty, students and staff on Friday, Feb. 21.
Étienne is the first distinguished visitor to campus hosted by the new Global Fellows Program. The event will be from noon to 1 p.m. in Alumni Hall, Room 201. He will be accompanied by Vincent Hommeril, the consul general of France in Atlanta, who oversees relations between France and six Southeastern states; Deputy Economic Counselor Jérémy Lauer-Stumm; and Amélie de Gaulle, the great-great niece of General Charles de Gaulle and the honorary consul of France in Nashville.
While on campus, Étienne will meet with key members of the university's leadership team to discuss ways to foster the relationship between the university and the French embassy as part of Vanderbilt's overall strategy to raise its global profile—strengthening its international research, scholarship and creative expression.
Étienne's areas of expertise include the European Union and continental Europe. He has held posts in Moscow, Belgrade, Bucharest, Bonn, Berlin and Brussels. His previous positions include serving as the French ambassador to Romania from 2002 to 2005; as director of the Cabinet of the Minister of Foreign and European Affairs from 2007 to 2009; as permanent representative of France to the European Union from 2009 to 2014; as ambassador of France to Germany from 2014 to 2017; and most recently, as diplomatic adviser to French President Emmanuel Macron from 2017 to 2019.
A graduate of the École Normale Supérieure, a prominent higher education institution in Paris, and the Ecole Nationale d'Administration, France's National School of Administration, Étienne also holds the teaching diploma in mathematics as well as a degree in economics. He is also a graduate of the National Institute for Oriental Languages and Civilizations.
An officer of the Legion of Honor and a commander of the National Order of Merit, Étienne speaks English, German, Spanish, Russian and Romanian.
A limited number of luncheon meals will be available. Please RSVP to Linzie Treadway.