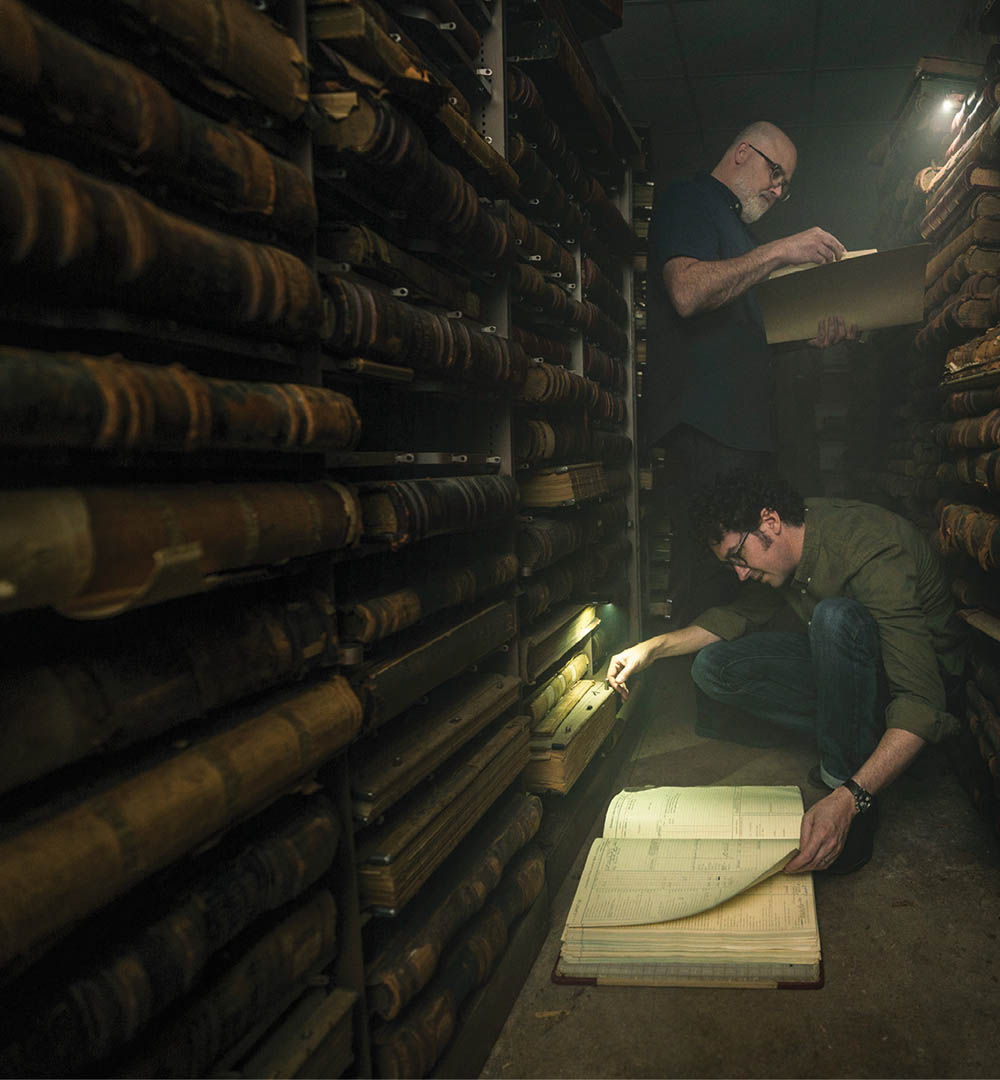 After Alabama native Chip Brantley, BA'95, graduated from Vanderbilt, he vowed to flee the South forever. He embarked on a journey as a wandering creative, moving from France to California to Massachusetts, with stints as a writer and cheesemaker. Then came the March blizzard in New England that drove him back south 10 years ago.
After nearly 15 years away, he found comfort in the landscapes and language of his youth, if not in the state's troubled history. But journalism had given him tools to reckon with uncomfortable legacies. He went home armed with curiosity, the resolution to attack hard truths head-on, and a growing sense of purpose. Brantley became a journalism professor at the University of Alabama, where he met documentarian Andrew Beck Grace; the two taught a justice and journalism class together that followed a death row case in real time.
Then came a tip that would put their investigative skills to the test. Mississippi journalist Jerry Mitchell suggested they look into the 1965 unsolved murder in Selma of a white Unitarian minister and civil rights activist named James Reeb.
Their five-year investigation was documented in the NPR podcast White Lies, the Best True Crime Show of 2019 according to Apple and a 2020 Pulitzer Prize finalist in Audio Reporting. White Lies uncovered more than the facts of Reeb's death; it exposed the lies that white citizens of Selma told the FBI to conceal their neighbors' crimes. But the biggest lie was the one many Selmians told themselves: that leaders of the civil rights movement intentionally let Reeb die because they needed a white martyr. "The way that lie spread is so material to what we live with now," says Brantley. He shares what he learned about investigating cold cases, telling true-crime stories responsibly, and illuminating larger truths through storytelling.
1. Listen without judgment.
It wasn't easy for two journalists to convince white Selmians to tell the truth about Reeb's murder—and their own complicity in covering it up. Grace and Brantley reminded themselves to meet suspicion and fear with empathy. "They had to tell us their truth. We were just there to let them do that." Some residents still refused to talk, but the few who came clean offered history-altering revelations.
2. Go deep.
Too often, Brantley laments, true-crime storytelling wallows in lurid violence and anguish, with the "characters" reduced to symbols or narrative devices. He and Grace wanted to paint a fuller picture of each person in the story. "Not just the pain and suffering, but also the strength and humanity and lived experience," he says. In the final episode, recorded speeches by Reeb intersperse with everyday family stories, Reeb the Martyr vs. Reeb the Real Human. Throughout the series, revelatory moments abound: astonishing acts of reconciliation, reckoning and compassion from people on all sides of this history.
3. Find the "sliver of light."
In any large creative endeavor, there's a phase Brantley calls "The German Forest Moment" when you're lost in doubts and details. "We had to constantly remind ourselves to keep moving forward, and eventually we'll see some sliver of light," he says. Their sliver of light was meeting with a public radio story editor who had worked on big projects before. "Being able to talk about it with somebody who's been there is sometimes all you need."
4. Allow yourself to be vulnerable.
Telling Reeb's story and the broader narrative of racist self-delusion helped Brantley reckon with his own family history. His ancestors owned slaves, and he says so in the podcast. "Talking openly isn't risky; it's liberating," he says. And disclosing those painful truths helped him shift focus from shame and defensiveness to an active sense of responsibility about the current societal ills and vast fortunes born of slavery and Jim Crow. "It's the starting point," he says. "You can't have reconciliation until you have truth."
TEXT BY KIM GREEN