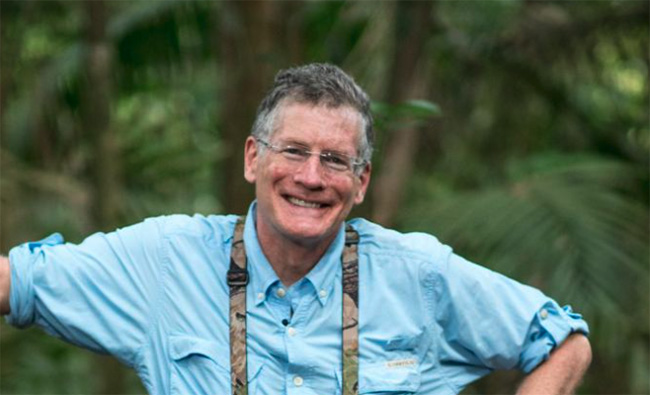 Jonathan Losos, a world-renowned evolutionary biologist whose discoveries have shed light on how organisms diversify, will deliver the 2020 Darwin Day Lecture on Wednesday, Feb. 12. Losos' talk, part of the Vanderbilt Evolutionary Studies Initiative's International Darwin Day celebrations, will begin at 4:10 p.m. in Buttrick Hall, Room 102. The event is free and open to the public.
Losos is the William H. Danforth Distinguished Professor of Biology at Washington University in St. Louis and director of the Living Earth Collaborative. His lecture, "Using Experiments in Nature to Study Evolution in Real Time: Research on Lizard Adaptation in the Bahamas," will describe his career-long research efforts to understand how species diversity and adapt to their environments using island Anolis lizards (anoles) as his model.
"As anyone who's done science knows, successful projects usually answer one question but lead to three new ones. It took me two years of graduate school and a dozen failed projects, but I finally realized island anoles are a perfect group for studying how evolutionary diversification occurs," Losos wrote in his recent book, Improbable Destinies: Fate, Chance, and the Future of Evolution.
Losos' pioneering studies have earned him many accolades and honors, including election to the U.S. National Academy of Sciences. In addition, he is the recipient of the Edward O. Wilson Naturalist Award, the Sewall Wright Award, the David Starr Jordan Prize and many others.
The Vanderbilt Evolutionary Studies Initiative was established in August 2019 with the aim of uniting a remarkably diverse array of scholars from a variety of disciplines with broad interests and expertise in evolution-related fields. As part of the International Darwin Day celebrations, undergraduate students in the Evolution freshman seminar led by senior lecturer Amanda Benson will display their posters on Darwin's observations of the natural world on his H.M.S. Beagle voyage the entire day on Feb. 12. In addition, professors Larisa DeSantis, Nicole Creanza and Ann Tate will meet the evening of Feb. 13 at the Dean of the Ingram Commons residence with a small group of Vanderbilt undergraduates to discuss evolution and why we celebrate Darwin Day.