John Bolton and Susan Rice—who have both served in the high-profile roles of U.S. national security advisor and ambassador to the United Nations—will come together for a Vanderbilt University Chancellor's Lecture on Feb. 19.
Bolton and Rice will discuss "Defining U.S. Global Leadership" during a conversation hosted by Interim Chancellor and Provost Susan R. Wente at Langford Auditorium. The theme of the spring series, "Our Global Community," aims to create conversations about our increasingly connected world.
The event will begin at 7 p.m., with doors opening at 6 p.m. Tickets are required for this event, which is free and open to the public.
Reserve your ticket to the John Bolton/Susan Rice event. >>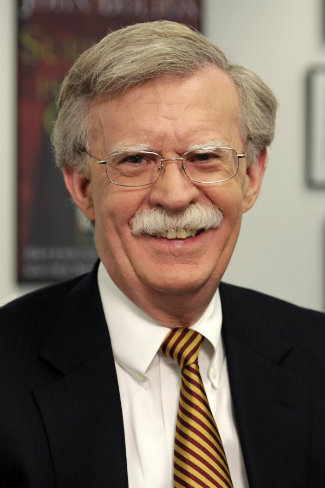 Bolton is a lawyer and diplomat with three decades of experience in international issues. A native of Baltimore, Maryland, Bolton enrolled at Yale University, where he received a bachelor of arts, graduating summa cum laude in 1970. He earned his law degree from Yale in 1974.
Bolton began his government service during the Reagan administration, working in the U.S. Agency for International Development before being named assistant attorney general during Reagan's second term. He then was assistant secretary for international organization affairs under President George H.W. Bush. During the 1990s he worked for conservative groups that included the American Enterprise Institute and the Project for New American Century.
Bolton served as U.S. ambassador to the United Nations during the George W. Bush administration. During his tenure there, he was a leading voice on the need for the Security Council to take strong and meaningful action against international proliferation and terrorism. In 2008, he published Surrender Is Not an Option: Defending America at the United Nations. After leaving that post, he returned to work for the American Enterprise Institute and other conservative organizations. In 2012, he was an adviser to the Mitt Romney presidential campaign.
Bolton was named national security advisor to President Donald Trump in March 2018, serving in that position until September 2019. He is now a senior adviser at the Rhone Group, a global private equity firm. He also has a forthcoming book, The Room Where It Happened: A White House Memoir, scheduled for publication in March 2020.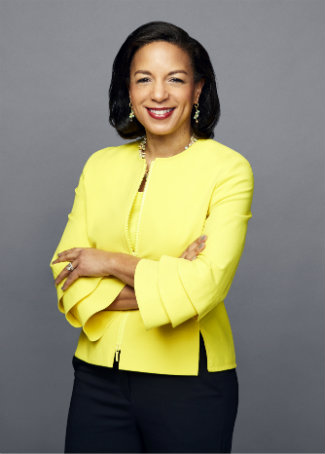 Most of Rice's 25 years of public service have been on the front lines of American diplomacy and public service. She was born and raised in Washington, D.C., and went to Stanford University, earning a bachelor of arts with honors and distinction in 1986. She was awarded prestigious Truman and Rhodes scholarships for graduate study. Enrolling at New College of Oxford University, she received a master's degree in 1988 and a doctorate in 1990, both in international relations. Rice was awarded the Chatham House-British International Studies Association Prize for the most distinguished doctoral dissertation in the United Kingdom in the field of international relations in 1990.
She began her career as a management consultant with McKinsey and Company. During Bill Clinton's first presidential term, she served as special assistant to the president and senior director for African affairs at the National Security Council and director for international organizations and peacekeeping on the National Security Council staff. In 1997, she was named U.S. assistant secretary of state for African affairs, formulating and implementing U.S. policy towards 48 nations in sub-Sahara Africa.
Under President Barack Obama, Rice was U.S. permanent representative to the United Nations from 2009 to 2013. In July of that year, she was named national security advisor, with responsibility for coordinating the formulation and implementation of all aspects of the administration's foreign and national security policy. This included all diplomatic, intelligence, homeland security and military efforts.
Rice is currently a distinguished visiting research fellow at the School of International Service at American University and a non-resident senior fellow at the Belfer Center for Science and International Affairs at Harvard University's Kennedy School of Government. She recently penned the New York Times bestseller Tough Love: My Story of the Things Worth Fighting For.
The conversation with Bolton and Rice will be moderated by Ingrid Wuerth, the Helen Strong Curry Chair in International Law and director of the Cecil D. Branstetter Litigation and Dispute Resolution Program, and Hannah Martins Miller, a third-year law student and editor of the Vanderbilt Law Review. Miller is also an active-duty captain in the U.S. Army. Prior to law school, she served as a military police platoon leader, company executive officer and battalion plans officer in Grafenwöhr, Germany.
The other signature speaker for the Chancellor's Lecture Series this spring will be Anderson Cooper, journalist, CNN anchor and author, on March 15 at Langford Auditorium.
Those attending the Chancellor's Lecture Series signature speaker events can park for free in the 25th Avenue Garage. Please use the Highland Avenue entrance.
CART services (live captioning) will be available during the events for hearing-impaired audience members.
For more information, email cls@vanderbilt.edu.