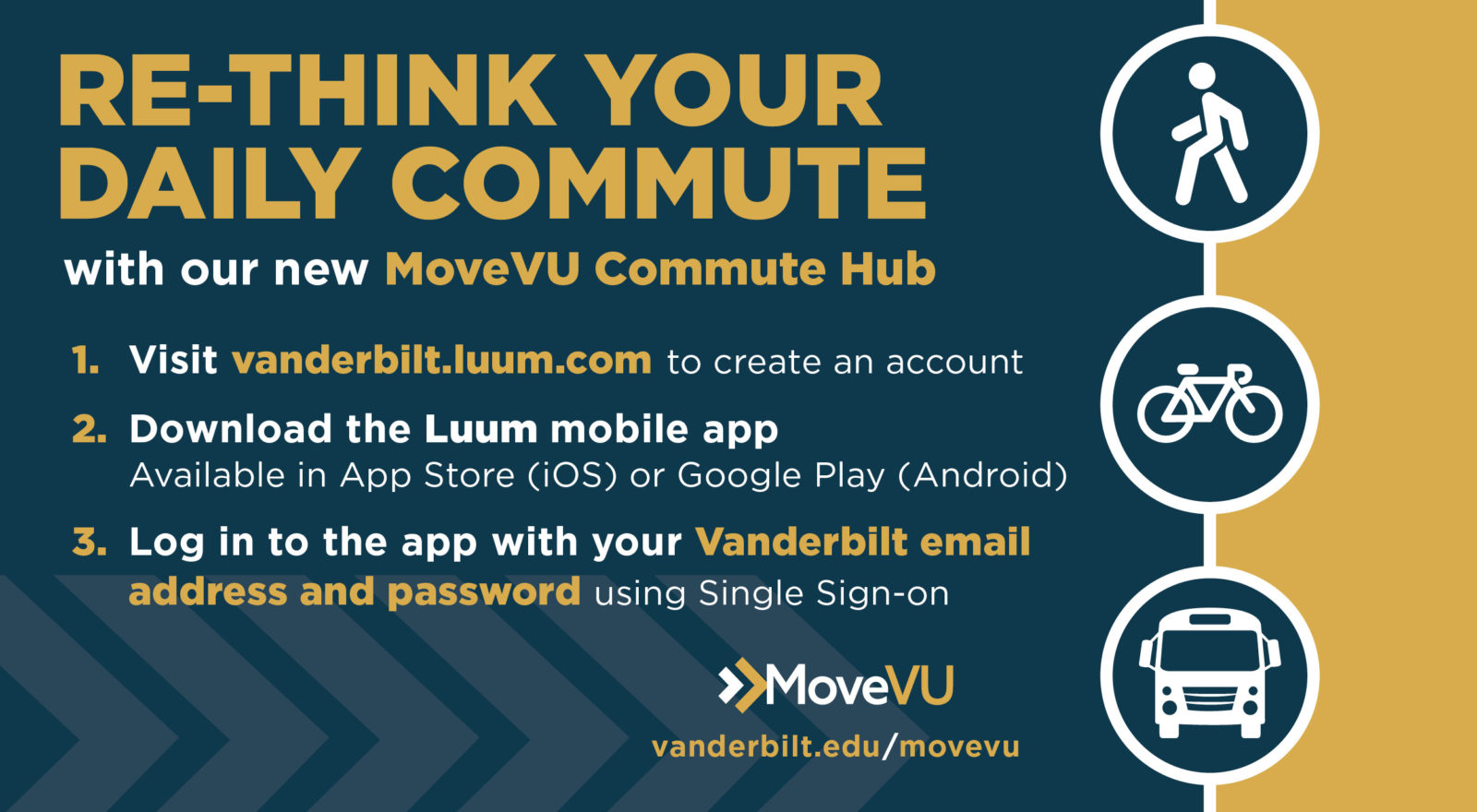 The Transportation and Mobility Office has launched the MoveVU Commute Hub as a one-stop commuter information resource for the Vanderbilt community. The Commute Hub, which includes a new app and website that tracks users' commuting behavior, allows Vanderbilt staff, faculty and students to better understand their commute options beyond driving alone—including WeGo public transit, bicycles, scooters, walking, carpooling and vanpooling.
The tool is an effort of MoveVU, Vanderbilt's strategic transportation and mobility plan. MoveVU aims to give commuters more options to choose from when making the daily decision on how to travel to campus and provides greater flexibility to match their dynamic lifestyles.
Read more about MoveVU's vision and goals.>>
"Parking, traffic and mobility are all linked and are all complex issues to take on," Vice Chancellor for Administration Eric Kopstain said. "Making progress in these areas is going to require a variety of solutions that take into consideration the needs of our entire community—those who live near campus and those who commute from a farther distance. We are starting with the Commute Hub and will continue to work on new options to support all staff, faculty and students."
The MoveVU Commute Hub will allow commuters to:
Understand their commute options beyond driving alone
Connect with other Vanderbilt commuters interested in carpooling or vanpooling
Track the mode in which they choose to commute to campus each day using the Commute Calendar feature
See the impact they're making by choosing sustainable commutes through their monthly commute statement
Earn incentives and rewards that will roll out over time for their sustainable commutes
Coming soon: Gain access to the Guaranteed Ride Home program in the event of an emergency or unforeseen circumstance when they have used a sustainable commute option that day
How to access the MoveVU Commute Hub:
Download the Luum mobile app through the App Store (iOS) or Google Play (Android)
Log in the app with your Vanderbilt credentials (email address and password) using single sign on
After logging in, you will be asked to grant the app permissions to provide you the optimal experience for all mobile features
In response to data and feedback from the campus community about the desire for more commute options and flexibility when parking, Vanderbilt will offer a daily parking pilot in fall 2020 for a limited number of commuters. Those who are selected to participate in the pilot program will pay to park in three garages only on days they drive a vehicle to campus. On days when they choose a sustainable transportation mode—such as walking, biking, public transit, carpooling or vanpooling—they can log the action in the Commute Hub to gain an incentive. The program also may benefit employees with flexible work arrangements who do not come to campus each day. Commuters who are interested in the pilot daily parking program can fill out an interest form. Participants will be selected based on their current commute habits and demand for the program. Those who wish to continue with an annual parking program will continue to renew their permits in the fall and park by zone.
"The Commute Hub is designed to provide Vanderbilt community members with greater flexibility and more sustainable options for making the daily commute to campus," said Erin Hafkenschiel, executive director of transportation and mobility at Vanderbilt. "Those who use the hub to find sustainable transportation options will help alleviate traffic in the Vanderbilt area, reduce our community's carbon footprint, and help us be more deliberate in how we use our campus's precious land."
Those who wish to learn more about Vanderbilt's transportation and mobility efforts are invited to attend a series of MoveVU open house sessions this spring. The sessions will be held at the following times and locations:
Wednesday, Feb. 26 – 10–11:30 a.m., Student Life Center, Board of Trust Room
Monday, March 23 – 11 a.m.–12:30 p.m., The Commons Center, Room 237
Thursday, April 16 – 3–4:30 p.m., Sarratt Student Center, Room 216/220
For more information, visit the MoveVU website.