Media Inquiries
Latest Stories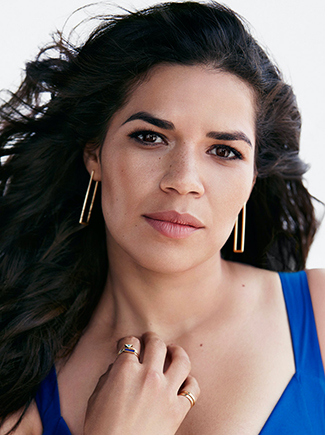 **This event has been canceled. Ms. Ferrera had to withdraw from the event due to unforeseen circumstances.**
A candid conversation with America Ferrera—an award-winning actress, producer, director and activist—will be the focus of a signature Chancellor's Lecture Series event at Langford Auditorium on Feb. 17.
The theme of the spring series, which is led by Interim Chancellor and Provost Susan R. Wente, is "Our Global Community," with the aim of creating conversations about our increasingly connected world.
The topic of the event is "Life Between Cultures." Ferrara will discuss her own experience growing up in Los Angeles as the child of Honduran immigrants, which she writes about in her bestselling book, American Like Me: Reflections on Life Between Cultures. The anthology, which Ferrera curated and edited, is a rich collection of first-person accounts from prominent figures who grew up as children of immigrants.
The conversation with Ferrera will be moderated by Edward Wright-Rios, a cultural historian who holds the Mellon Foundation Chair in the Humanities at Vanderbilt, and Vilmaris E. González, a master's student at Peabody College of education and human development.
A longtime activist on the national stage, Ferrera was an early driving force in the Time's Up movement, which addresses the systemic inequality and injustice in the workplace that has kept underrepresented groups, including women, from reaching their full potential. She also is a co-founder of the organization HARNESS, a community of artists, influencers and grassroots leaders that provides education and engagement opportunities to amplify the work of those advocating for social justice.
In addition, Ferrera was a co-organizer of the letter of solidarity to U.S. Latinos following a mass shooting in El Paso, Texas, and the immigration raid in Mississippi, both in August 2019.
Ferrera currently produces and stars in the groundbreaking comedy Superstore on NBC. She is also executive producer of the Latinx dramedy Gentefied, set to premiere on Netflix on Feb. 21. The program centers on three Mexican-American cousins and their struggle to chase the American dream in a rapidly gentrifying Los Angeles neighborhood.
Her many other film and television credits include The Good Wife on CBS; Rickey Gervais' satire Special Correspondents; Ryan Piers Williams' drama X/Y, which she co-produced and starred in; the crime thriller End of Watch by David Ayer; the critically acclaimed film Real Women Have Curves; and The Sisterhood of the Traveling Pants (parts one and two). She also voiced the role of Astrid in the How to Train Your Dragon movie franchise. She has received numerous honors for her acting, including Golden Globe, Emmy and Screen Actors Guild awards for her lead role in the ABC comedy Ugly Betty.
On stage, she played Roxie Hart in the London production of Chicago and has performed in several off-Broadway productions.
In 2013, Ferrera earned a bachelor's degree from the University of Southern California, where she studied international relations while pursuing her career in film and television. In 2006, she founded Take Fountain, a television and film production company.
The other signature speakers for the spring Chancellor's Lecture Series are John Bolton and Susan Rice, former national security advisers, on Feb. 19; and Anderson Cooper, journalist, CNN anchor and author, on March 15.
All signature Chancellor's Lecture Series events will take place at Langford Auditorium with free parking available in the 25th Avenue Garage. Please use the Highland Avenue entrance.
CART services (live captioning) will be available during the event for hearing-impaired audience members.
For more information, email cls@vanderbilt.edu.