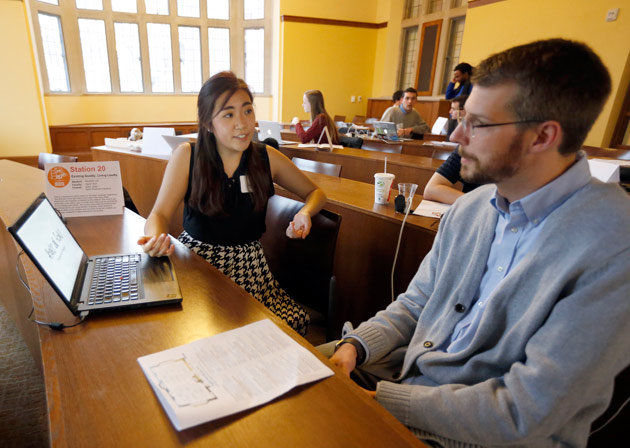 The Center for Teaching will host its fourth annual Celebration of Learning, an exhibition of students as producers, on Thursday, Feb. 13. The event will feature students from across campus sharing what they have learned, created, designed and discovered. Faculty, staff and students are invited to drop by the event, which will be held from 2 to 4 p.m. in Alumni Hall.
"We often help faculty and other instructors adopt a 'students as producers' approach to course design," said Derek Bruff, director of the Center for Teaching and principal senior lecturer in mathematics. "This event provides a look at the kinds of fascinating student projects that can result when faculty engage their students not only as consumers of information, but as producers of knowledge."
Student projects shared at the Celebration of Learning in the past have included podcasts, robot prototypes, board games, mobile apps, art installations, laboratory research, service-learning projects, digital stories and more. Most of the projects are the result of course assignments, often from courses taught by faculty involved in Center for Teaching programs.
"It was wonderful to see productions from all these amazing courses," said Haerin Shin, assistant professor of English and a 2014-15 Junior Faculty Teaching Fellow, after attending a prior Celebration of Learning. "I'm excited to motivate my students with the prospect of showcasing their projects to a wider audience."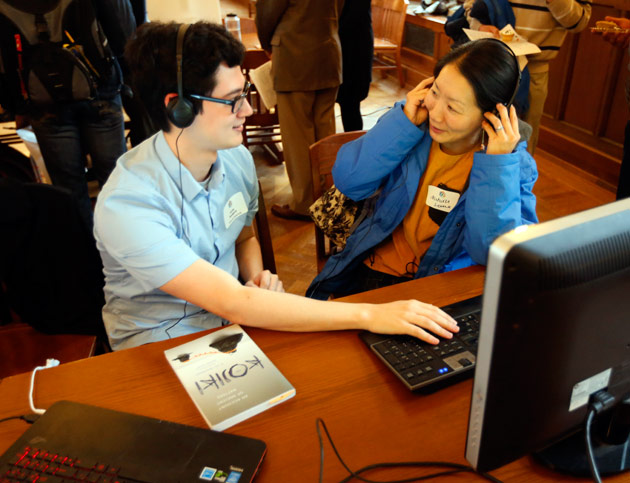 Bruff hopes that faculty and other instructors will be inspired to experiment with new assignments and authentic assessments in their courses.
The Celebration of Learning will feature students from all four undergraduate schools, as well as graduate and professional students. Undergraduate students thinking about Immersion projects are especially encouraged to attend.
"We expect students will get some useful ideas for their Immersion plans after seeing the work of other students engaged in immersive learning," said Carolyn Floyd, director of the Office of Immersion Resources.
For more information about the event, including videos from past years, visit the Center for Teaching's website at cft.vanderbilt.edu/col.