Media Inquiries
Latest Stories
August Washington has been appointed senior associate vice chancellor for public safety and special initiatives, Vice Chancellor for Administration Eric Kopstain announced today.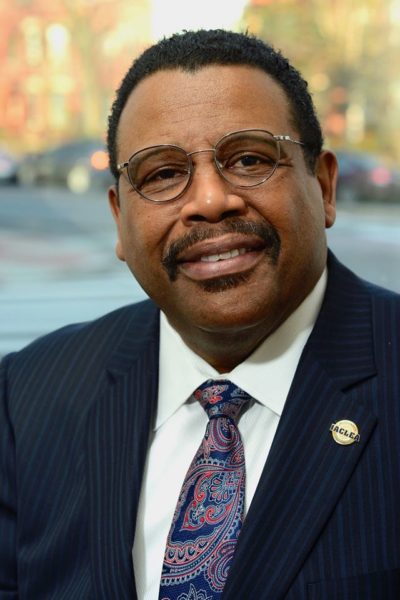 Washington will oversee all aspects of Vanderbilt University Public Safety while working directly with Kopstain on Division of Administration initiatives focusing on equity, diversity and inclusion as well as workforce development. Washington also will direct efforts to recruit the university's next chief of police.
Washington has served as associate vice chancellor for the university since 2014 and chief of police since 2009. He is the longest-serving chief of police in Vanderbilt's history, reaching and exceeding many goals during his 11-year tenure.
"August has been the driving force behind many important initiatives that have shaped the way our public safety function is seen on campus, throughout the city of Nashville, and by other higher education institutions," Kopstain said. "His experience makes him the perfect fit to help move forward many of our division's goals, including enhancing our efforts toward equity, diversity and inclusion and making Vanderbilt an employer of choice."
Washington has been responsible for the strategy and operational execution of all community-oriented programming, emergency planning, transportation and business continuity for Vanderbilt University, as well as safety and security for Vanderbilt University Medical Center and its remote campuses. He oversees more than 300 staff, which includes 135 community service officers, 100 police officers and 80 contract security personnel.
Washington has enacted a number of initiatives and programs that have helped shape the university's first-rate public safety function. He has led the department to become the only university department to maintain quadruple accreditation—the Commission on Accreditation of Law Enforcement Agencies, the International Association for Campus Law Enforcement Agencies, the Tennessee Association of Chief of Police and the Commission on Accreditation for Law Enforcement Agencies, Inc. The VUPS Communications Unit recently became one of only three universities in the United States to achieve accreditation.
Washington created the Community Orientated Results and Expectations Committee, aimed at building a stronger relationship between VUPS and the Vanderbilt community through open dialogue, problem solving, trust and transparency. He also created the Campus Community Relations and Crime Prevention Unit, which attended more than 200 events in 2018. He developed a police citizen seminar to educate individuals about VUPS and the challenges facing today's members of law enforcement.
Washington also implemented Vanderbilt's video surveillance program that allows VUPS communications staff to monitor 2,000 cameras operating on campus, and under his direction, Vanderbilt's state-of-the-art Emergency Operations Center was completed, vastly improving safety efforts at the university.
"I am excited to expand my areas of focus to include equity, diversity and inclusion and workforce development in the Division of Administration. These initiatives have always been priorities within Public Safety and I am honored to have the opportunity to now expand those efforts across the division," Washington said.
Washington joined Vanderbilt University in 2009 after serving as chief of police at the University of Tennessee-Knoxville for four years. His professional experience includes serving as deputy director of safety and security at the University of Southern California in Los Angeles, and as director of safety and security at Florida Atlantic University, which has seven campuses throughout South Florida. He also served as director of public safety at Indiana State University, director of community safety at Reed College in Portland, Oregon, and as a public safety lieutenant at Portland Community College.
Washington serves as a board member on the International Association of Campus Law Enforcement Administrators and was nominated for the Nashville Business Journal'sMost Admired CEO in 2019.