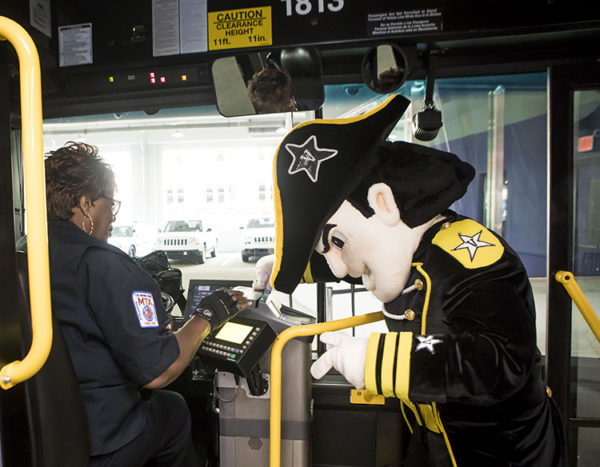 With the spring semester well underway, you might not know about some of the changes happening with transportation and mobility on campus this academic year. Enhancing sustainable transportation options and reducing the amount of land devoted to parking are key to FutureVU efforts to beautify the campus, enhance its park-like characterand better connect campus neighborhoods, as well as align with the university's goal to achieve carbon neutrality by 2050. Here are seven changes you should know as you travel around campus and the city.
New ridehail pick-up and drop-off locations
If you often take an Uber or Lyft, there are now nine designated ridehail pick-up and drop-off locations around campus. The locations are marked with signage and are labeled in the Uber and Lyft mobile apps. Locations include E. Bronson Ingram Circle, Kirkland Esplanade, Sarratt Student Center/Rand Hall, the Engineering and Science Building, McGugin Center, Blakemore House, VRWC Lot 27 across from Morgan Circle, Crawford House and Hank Ingram House.
The decision to create dedicated ridehail pick-up and drop-off locations on campus was in direct response to requests from students to improve safety measures around the ridehail process. Nine pilot locations were identified across campus in safe, well-lit areas that have the ability to be easily monitored by cameras and VUPS patrols.
This first phase of pick-up and drop-off locations will be monitored, and adaptations or new locations will be added as needed.
West End Neighborhood transportation loop
As part of the West End Neighborhood project, a new transportation loop has been constructed near the entrance of Sarratt Student Center/Rand Hall. The transportation loop is designed for internal vehicular circulation on campus, providing a new and central location for Vanderbilt shuttles to drop off and pick up riders. The loop also centralizes accessible spaces in the West End Neighborhood and provides short-term parking for rideshare with a few spaces for deliveries. The loop is scheduled to be completed in the coming weeks and will incorporate the VandyRide route, featuring a student-designed bus shelter that will be installed in the future.
Pre-approved mobility rides
New electric golf carts are available to provide rides for those with medical or accessibility needs who have registered with and been approved through the Student Access Services Office. This is a joint project among Equal Employment Opportunity, Student Access Services, VUPS and the Transportation and Mobility Office.
If you would like to access the pre-approved mobility rides, contact the Student Access Services Office through our online portal or at (615) 343-9727. Student Access Services reviews the medical requirement and provides Transportation and Special Events Services with a request to support the student. Staff will then reach out to the student with a service agreement and coordinate a schedule to provide transportation to and from class.
Improved scooter and bike parking
Did you know that there are currently three approved scooter companies operating on campus—Bird, Lime and Spin? Scooter parking was created on campus last year, and this year Vanderbilt staff are studying and making changes to scooter and bike parking in collaboration with the School of Engineering. These new parking areas will feature improved signage and a few additional locations, making the parking areas more visible in high-demand areas in an effort to keep campus walkways and building entrances clear of scooters and accessible for all.
Want to learn more about keeping yourself safe while riding scooters and bikes? View safety guidelines and complete an interest form here to let us know if you would like to take one of our future scooter or bike classes.
Walk & Roll Loop
Planning is underway on the design of the university's Walk & Roll Loop. The first signs of change can be seen as fencing along portions of West End Avenue and 21stAvenue South are removed. The loop is a multiyear project that will enhance the mobility experience for students, staff and faculty as well as the surrounding community. The loop is a multimodal pathway envisioned to encircle the edge of campus.The loop idea was based on recommendations from undergraduate students included in the Vanderbilt Student Government Land Use Report.
The Walk & Roll Loop is part of a planned, defined greenway network that will establish recognizable connections between places and spaces on campus. This project not only will improve the pedestrian experience, but also will allow for those on bicycles and other rolling devices, to navigate campus more safely and easily.
VandyRide
In response to feedback from undergraduate students as well as further study, VandyRide, formerly Vandy Vans, now features two routes, faster service, more convenience and improved safety. Nighttime service hours have been expanded from 5 p.m. to 3:30 a.m. seven days a week. The Gold express route bus arrives approximately every 11 minutes Sunday through Wednesday and every eight minutes Thursday through Saturday. The Black circulator route bus arrives approximately every 25 minutes and circulates the campus clockwise.  Make sure you download the VandySafe app to view the routes and real-time arrival information.
The university is planning to install shuttle shelter stops at several VandyRide locations to enhance the user experience. These shelters will have a similar design to the student-designed shelter between Hank Ingram House and Murray House.
MoveVU resources
Do you know all of the transportation and mobility options available to you on campus and in Nashville? The Transportation and Mobility Office has created a resource flier with information about the options available to students.
Coming February 3: Check out the MoveVU Commute Hub—a new app and website that provides all your commute information in one place.
You will be able to download Luum in the iTunes app store or Google Play or at vanderbilt.luum.com starting Feb. 3 and enter your Vanderbilt credentials to connect with the MoveVU Commute Hub.