A Vanderbilt Divinity School collaboration committed to harnessing the power of public theology to combat racism will thrive and expand its reach, thanks to renewed support from the Henry Luce Foundation.
The Luce Foundation has awarded a $500,000 grant to the Divinity School's Public Theology and Racial Justice Collaborative for its second phase—to establish mobile institutes across the nation through partnerships with scholars and activists who have attended the Divinity School's summer institutes.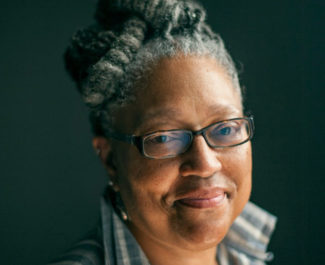 "We share a heartfelt, stubborn determination with those from near and far who have taken part in the collaborative' s summer programs to eliminate racial injustice," said Emilie M. Townes, dean of the Divinity School and the E. Rhodes and Leona B. Carpenter Professor of Womanist Ethics and Society. "With support from the Luce Foundation, we hope to work with more than 40 partners who are equipped and motivated to engage their local communities in satellite iterations of the summer institute model. These nationwide partnerships empower local communities to further fight racial injustice and inequity. I am proud Vanderbilt Divinity School is playing such an important role in that work."
The Public Theology and Racial Justice Collaborative, which Townes directs, was established in 2017 with a $1 million gift from the Luce Foundation to the Divinity School. The initiative supports Vanderbilt's highest priorities, including the university's strong commitment to equity, diversity and inclusion.
Summer institutes, which are designed to engage and train students, grassroots organizers and activists, have been an integral part of the collaborative's first phase the past two years.
"While we always planned for the next generation to take up the cause of racial justice, our summer institutes revealed that there are many advocates prepared to take action now," said Teresa Smallwood, who serves as the collaborative's associate director. "By meeting them where they are—in their own communities—we can expand the immediate reach of our impact."
The mobile institutes will be supported by well-resourced archives that were developed during the previous two summer institutes. The inaugural institute's theme in 2018 was "Reclaiming Our Time: Public Theology, Racial Justice and the Fight for Democracy."  Speakers included U.S. Rep. Jim Cooper, D-Tenn., Arkansas Sixth Circuit Judge Wendell Griffen and Melissa Harris-Perry, a scholar who holds the Maya Angelou Presidential Chair at Wake Forest University, in conversation with Yale University Law Professor Tracy Meares.
The theme for 2019 was "Policy, Politics and Privilege: The Prophetic Response to Racist Governance." Speakers included Nancy MacLean, the William H. Chafe Distinguished Professor of History and Public Policy at Duke University; Eddie S. Glaude Jr., the James S. McDonnell Distinguished University Professor in the Department of African American Studies at Princeton University; Ruby Nell Sales, an African American social activist and public theologian who founded SpiritHouse Project, a nonprofit organization dedicated to social justice; and Staceyann Chin, a poet, author and actor.
While the renewal grant is designed to engage a wider public in efforts to end racism, the collaborative continues to be of immense benefit to participating Divinity students, who develop a greater understanding of how their classroom work impacts the community.
"Our students will work alongside summer institute faculty, clergy, activists and others in a practical hands-on method designed to sharpen their ability to engage the pressing issues of the day." Townes said. "This bird's eye view of racial injustice will help students and participants think locally while also acting with a global world view to engage racial justice from several vantage points."
Areas under consideration for the initial mobile institutes include Chicago, Illinois, and rural North Carolina.
For more information on the Public Theology and Racial Justice Collaborative, email Teresa Smallwood.