Stories have the power to bring truth to light, amplify inclusive narratives and shape the future, according to two storytellers who shared the stage at Vanderbilt University on Sunday. Janelle Monáe, a Grammy-nominated musician, actress and producer, and Yusef Salaam, one of the Exonerated Five, previously known as the Central Park Five, shared their stories, struggles and triumphs with a packed house for the keynote event of the 2020 MLK Commemorative Series in partnership with the Chancellor's Lecture Series.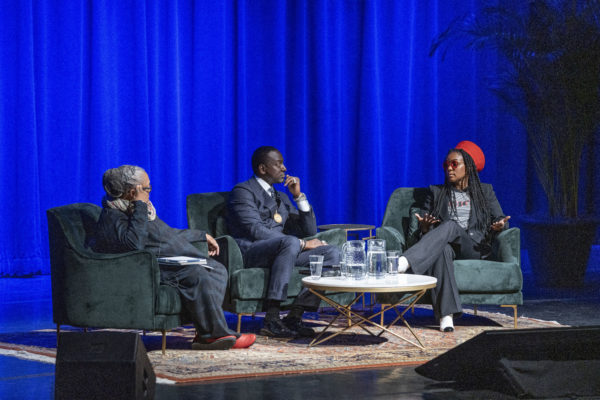 Interim Chancellor and Provost Susan R. Wente opened the event by underscoring the importance of telling individual stories within a university community, connecting it back to the theme of this year's MLK Commemorative Series, "The Power of Storytelling: Our Stories Connect Us."
"Dr. King's own stories, teachings and advocacy continue to resonate broadly," Wente said. "Here at Vanderbilt, we honor his life by sharing our stories with one another, and by continually working to actively foster a campus environment where everyone can feel included and successful, where everyone belongs—regardless of their race, gender or background."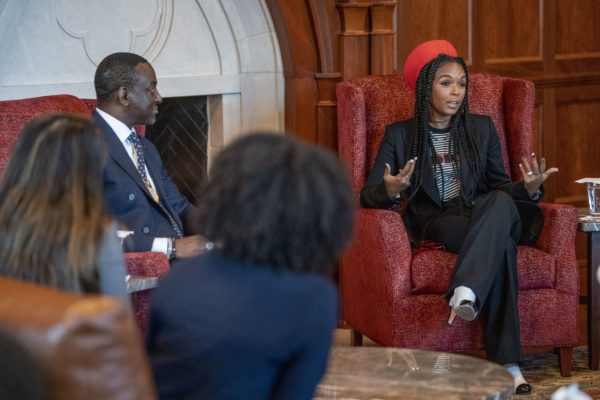 Both Monáe and Salaam noted during the discussion, which was moderated by Emilie Townes, dean of Vanderbilt Divinity School and the E. Rhodes and Leona B. Carpenter Professor of Womanist Ethics and Society, that stories can connect people in ways that few other methods of communicating can replicate.
"As the world changes and we evolve as humans, and we start stripping away labels and being more inclusive as human beings, we should see more stories highlighted," said Monáe. "Telling those stories can help people to understand how they might fit into a system that wasn't built for them. Stories can be the light at the end of the tunnel. I'm drawn to stories centered on people who are pushed to the margins of society, people from whom we haven't heard."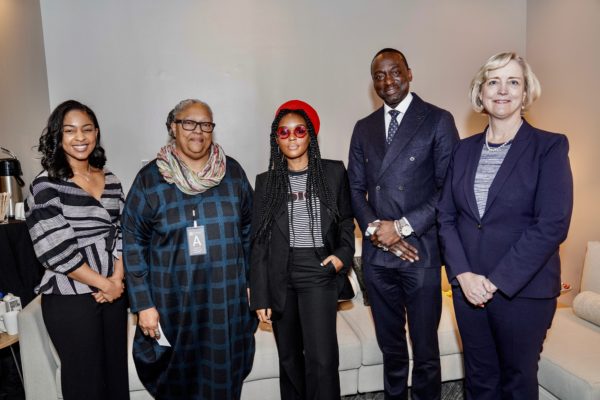 Both speakers also were drawn to the idea of stories as an avenue for truth, allowing individuals to share their own accounts without filters, and how important that is to people whose narratives have been misrepresented.
"If I believed everything that was told about me, those hundreds of articles written about us at the time—yet no one ever came to our homes to ask us our stories—if I believed it, I would have been so angry and bitter at life that it would have killed me," Salaam said.
Salaam, who was wrongfully imprisoned along with four other boys in 1989 for the rape of a woman in Central Park, reflected on how the medium of film has been able to amplify his own story. He shared that Ava DuVernay's Netflix feature series, When They See Us, along with Ken Burns' 2012 documentary, The Central Park Five, helped to start a movement that gave each of the men a new voice.
Salaam also noted that watching DuVernay's series helped him to understand the stories of the other men who were convicted—and later cleared—of the crime, reminding the audience that he didn't actually know some of the other Exonerated Five until he met them during the trial and in prison. He also found the experience of watching When They See Us difficult because it gave him a window into the truth of what the other men accused in the Central Park jogger case experienced while incarcerated. Yet, the experience of reliving this time in his life was part of his healing process from the damage of injustice.
"I had to tap back into trauma that I had suppressed, but I spoke with the writers [of When They See Us] for over eight hours; it was a liberating feeling," Salaam recounted. "And at the end of the day, I got to hear Raymond's story for the first time, Antron's story, Kevin's story and that of my dear friend Korey Wise. We had no idea what each of us had gone through."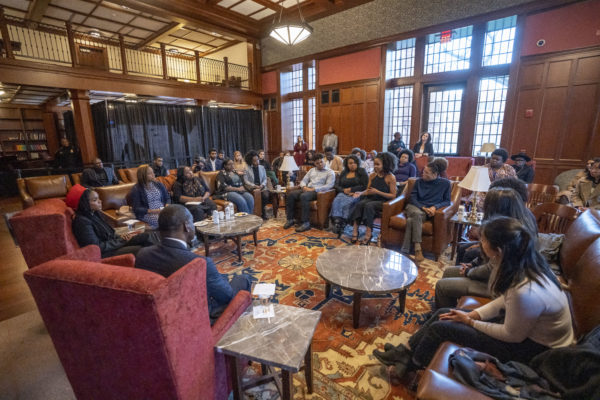 Salaam listed DuVernay as one of his favorite storytellers, along with rapper and producer Slick Rick the Ruler, whose music he would listen to while incarcerated in the 1990s. Monáe's list of favorite storytellers included DuVernay, science fiction author Octavia Butler, screenwriter and director Ryan Coogler, actor and director Jordan Peele, writer Roxane Gay and singer-songwriter Stevie Wonder, whom Monáe credited with amplifying the story and legacy of Martin Luther King Jr.
Throughout their talk, Salaam and Monáe both recognized the power of stories that continue to shape society. "The best of our story has yet to be told," Salaam said. "Everybody's story is still being told. We know beyond the shadow of a doubt: the end of our book hasn't been written yet."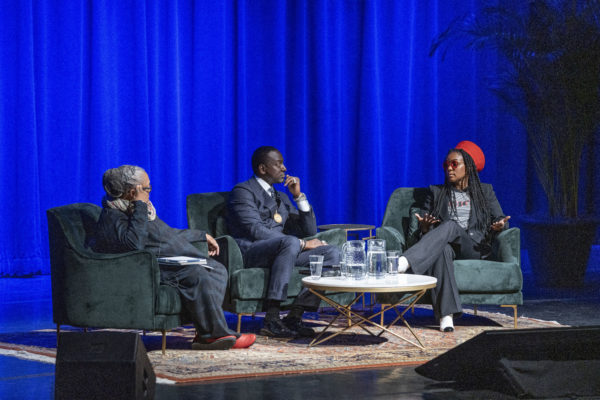 Earlier in the day, the two activists met with students during a question-and-answer session in the Great Room of E. Bronson Ingram College. Sunday's lecture was the keynote event of four days of activities and events celebrating the legacy of Martin Luther King Jr. For more information about the 2020 MLK Commemorative Series, including a list of events held throughout the weekend, visit the series' website.
The Chancellor's Lecture Series strives to connect the university and the Nashville community with leaders and visionaries who are shaping our world. To learn more, visit the CLS website, email cls@vanderbilt.edu or follow @VU_Chancellor on Twitter and Instagram.