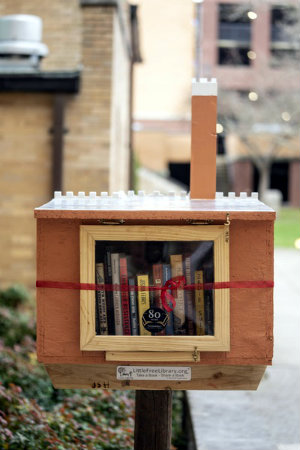 A new Little Free Library, designed to resemble the historic Kirkland Hall, offers a selection of books published by Vanderbilt University Press and other titles donated by community members.
The little library, built by Scott Hagan, a local craftsman, makes scholarly and general audience titles available for borrowing by the Vanderbilt and Nashville communities.
"We are celebrating two things that we hold dear to us at Vanderbilt University Press—books and a community of readers," said Gianna Mosser, director of the press, at a ribbon-cutting celebration on Jan. 15. "Our commitment is to make sure that the Little Free Library is stocked, so we are delighted to lend books published by the press as well as others that individuals would like to share."
Dawn Turton, associate provost for academic planning and operations, cut the red ribbon to officially open the little library. "This truly embodies Vanderbilt's approach to be part of the community," Turton said. She donated one of her favorite books, Notes from a Small Island by author Bill Bryson, to the little library.
The university press established the book-sharing box outside of its new offices at 1400 18th Ave. S. as part of a yearlong 80th-anniversary celebration. The press, which was founded in 1940, plans to increase its title content and number of regional publications as part of an overall revitalization effort to increase its local and global presence.
Mosser encouraged those who borrow their books to leave notes with any feedback they would like to offer. "We want to promote dialogue and sharing," she said. "With strong community engagement, we can offer stimulating book discussions and programming in the future."
The Little Free Library movement started in Hudson, Wisconsin, in 2009. Vanderbilt University Press' little library joins 90,000 registered Little Free Libraries in all 50 states and over 90 countries.