Media Inquiries
Latest Stories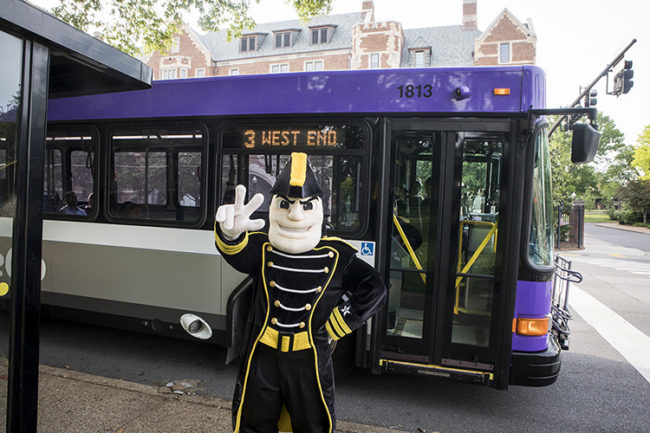 Ride WeGo bus with VU group to Downtown Public Listening Session Feb. 18
The Mayor's Office of Transportation is hosting a series of public listening sessions in January and February to determine Nashville's transportation priorities for the city's next transportation plan.
With Nashville's recent growth, the city is facing new transportation challenges—such as managing increased congestion and improving the WeGo Public Transit bus system. Safety and efficiency improvements will allow residents to get around the city faster and more reliably.
Creating an effective transportation plan begins with collecting valuable input from everyone who touches the transportation system—including Vanderbilt students, staff and faculty.
"Vanderbilt's large, informed and diverse community is uniquely qualified to help solve the transportation challenges Nashville is facing. Your thoughtful feedback is desired," said Erin Hafkenschiel, executive director of transportation and mobility. "We encourage everyone who is able to attend the upcoming listening sessions and share their ideas, priorities and concerns regarding the transportation challenges affecting us all. Our office often hears feedback about Nashville's transportation system. This is our opportunity to provide that feedback directly to the city."
On Tuesday, Feb. 18, the Transportation and Mobility Office will sponsor a group bus ride to the Downtown Public Listening Session scheduled from 11:30 a.m. to 1 p.m. at the Downtown Nashville Public Library. Those who want to ride with the Vanderbilt group should meet at the bus stop at West End and 23rd Avenue to catch the No. 5 bus departing at 11:06 a.m. (please arrive by 11 a.m.). Be sure to bring your Vanderbilt ID card to ride the bus for free as part of Vanderbilt's Easy Ride program.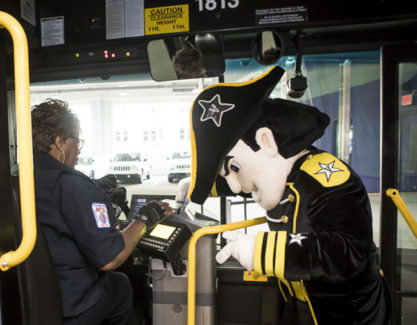 Those who aren't able to join the group ride but wish to take a bus to the Feb. 18 listening session may take the No. 3 or No. 5 bus from West End Avenue to downtown, or the No. 7 bus from 21st Avenue South to downtown, all of which have stops along the Vanderbilt campus. View bus schedules on the WeGo website. Real-time bus information can be accessed on Google Transit or the Transit App.
The Vanderbilt group will return to campus on the No. 3 bus that departs at 1:15 p.m. from the Central Station (a short walk from the Downtown Library) and should arrive back on campus at approximately 1:30 p.m.
The times and locations of all the public listening sessions around Davidson County are as follows:
Jan. 16
6–8 p.m.
Donelson/Music City Star Public Listening Session
Jan. 23
6–7:30 p.m.
Bordeaux/Clarksville Pike Public Listening Session
Jan. 28
6–8 p.m.
North Nashville Public Listening Session
Jan. 30
6–8 p.m.
Joelton Public Listening Session
Feb. 6
6–8 p.m.
West Nashville Public Listening Session
Feb. 11
6–8 p.m.
Bellevue Public Listening Session
Feb. 18
11:30 a.m.–1 p.m.
Downtown Public Listening Session
Feb. 20
6–8 p.m.
Green Hills/Hillsboro Pike Public Listening Session
Feb. 24
6–8 p.m.
Nolensville/South Nashville Public Listening Session
Feb. 27
6–8 p.m.
East Nashville/Madison Public Listening Session
For more information, visit the Mayor's Office of Transportation website.