Media Inquiries
Latest Stories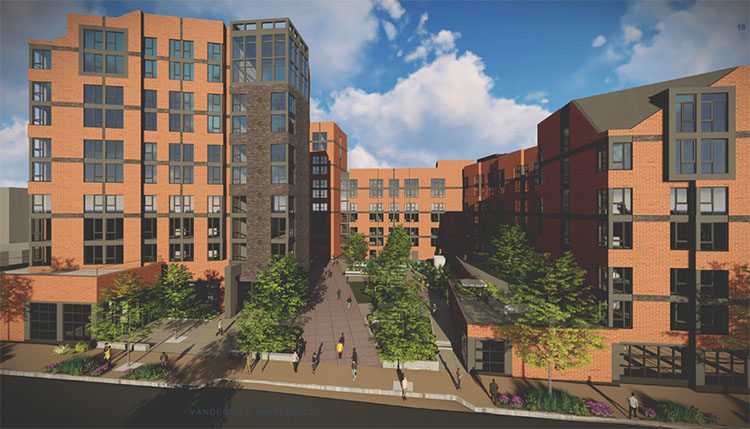 Vanderbilt graduate and professional students are asked to participate in a survey that will help shape the future of graduate and professional student housing at the university. The confidential survey should take approximately 20 minutes to complete, and those who participate will be entered in a drawing to win an Amazon gift card.
Vanderbilt has been studying and developing plans for graduate and professional student housing over the past several years with the aim of creating a robust living and learning community in close proximity to campus. Phase one of a new Graduate Village is currently being designed and will include a mixed-use 600-bed project to be located on Broadway between Lyle and 20th avenues.
Graduate and professional students were initially surveyed in 2018 and the data was used to set priorities for phase one of the project, to define the project's concept, and to select the ideal site and preferred development partner. Now, with phase one in an advanced stage of design and close to beginning construction, this new survey seeks to obtain updated feedback on student preferences regarding unit types and rental rates for the new Graduate Village.
"From the vision phase that was launched in 2016, to the implementation phase we are moving into now, student feedback has been critical to help ensure the development best serves the needs and expectations of our graduate and professional students," Interim Chancellor and Provost Susan R. Wente said. "Input gathered from the survey will be critical to our planning of the design and business plan for phase one and also will help inform future phases of the development. I hope all who are able take time to participate."
On Monday, Jan. 13, all graduate and professional students should receive an email with an individualized link inviting them to participate in the confidential, 20-minute survey. The email will come from "Vanderbilt Housing Study."
Those who complete the survey will be entered into a random drawing to win one of 10 $45 Amazon gift cards, or one of 10 $25 Amazon gift cards.
All information provided is confidential, and all data will be analyzed only in a group format.  The survey will close at 11:59 p.m. on Tuesday, Jan. 21. Gift card winners will be notified once the survey is closed and entries are processed.
Questions about the survey or survey process may be directed to survey@programmanagers.com.