Media Inquiries
Latest Stories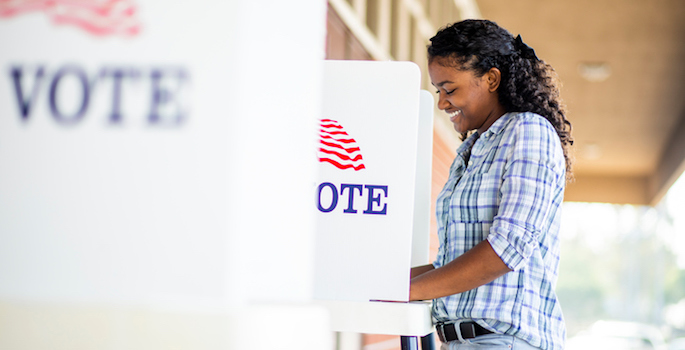 The deadline to submit a registration form to vote in the 2020 presidential primary is Monday, Feb. 3.
Election day in Tennessee for the presidential primary for the Republican and Democratic parties is Tuesday, March 3—known as "Super Tuesday" across the nation—when 14 U.S. states will hold presidential primary elections.
Vanderbilt University strongly encourages all students, faculty and staff to register to vote and participate in the democratic process.
Important dates for the Tennessee presidential primary
Monday, Feb. 3 – Voter registration deadline
Tuesday, Feb. 25 – Deadline to request an absentee ballot
Feb. 12–Feb. 25 – Early voting period
Tuesday, March 3 – Election Day
The State of Tennessee offers online voter registration at https://ovr.govote.tn.gov. A paper voter registration form can be downloaded at https://sos-tn-gov-files.s3.amazonaws.com/forms/ss-3010.pdf.
Copies of the paper form also may be obtained from the following campus locations:
Office of Active Citizenship and Service
Sarratt Student Center front desk
Commons Center front desk
Central Library
Office of the University Chaplain and Religious Life
Please note that the deadline for voter registration in Tennessee is 30 days before an election.
Students who plan to vote in Tennessee should be aware that the Tennessee photo identification requirement does not allow university identification cards to be accepted at the polls. Tennessee residency requirements may be found here: http://www.tn.gov/sos/election/residency.htm.
If you are an out-of-state resident, the United States Election Assistance Commission provides information regarding voter registration and absentee voting, as well as links to all state election commission sites at http://www.eac.gov/voter_resources/contact_your_state.aspx. Voter registration information and requirements also may be found at http://www.canivote.org.
Registering to vote in Tennessee will in no way affect your federal financial aid or any other grants or scholarships that do not have a specific residency requirement. However, there are some sources of financial aid or scholarships and grants that are conditioned upon residency in another state. If you receive any sort of financial assistance that is limited to residents of a state other than Tennessee, registering to vote as a resident of the state of Tennessee may affect your residency status for purposes of that out-of-state financial assistance. Students receiving such assistance should review the residency requirements under their out-of-state financial aid or scholarship and grant programs before registering to vote in Tennessee.
If you have questions or need help, contact the Office of Active Citizenship and Service, located in the Student Life Center, Suite 109; call 615-343-7878; or email oacs@vanderbilt.edu.
Helpful links
If the link does not open, please copy and paste the following into your web browser: https://ovr.govote.tn.gov