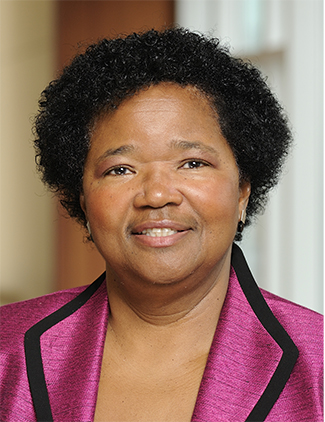 Phyllis Sharps, the Elsie M. Lawler Endowed Chair and associate dean for community programs and initiatives at Johns Hopkins University School of Nursing, will discuss "A Dream for Excellence in Research, Practice and Education" on Monday, Jan. 20, as part of the 2020 Martin Luther King Jr. Commemorative Series.
Sharps will speak from noon to 1 p.m. in Light Hall, Room 208. The event is free and open to the public. Lunch will be provided for the first 100 attendees.
Sharps is the director for two community nurse-managed centers for the Johns Hopkins School of Nursing—East Baltimore Community Nurse Centers and the Health and Wellness Program at the Henderson Hopkins Partnership School. She has published numerous articles on improving reproductive health and reducing violence among African American women.
Her practice and research examines the consequences of intimate partner violence (IPV) on the physical and mental health of pregnant women, infants and very young children. She has been the principal investigator for a $3.5 million five-year research grant funded by the National Institute of Nursing Research Domestic Violence Enhanced Home Visitation program that tested a public health nurse home visit intervention to reduce the effects of IPV among pregnant women and their newborns.
Currently, she is the principal investigator for a second five-year $4.2 million National Institutes of Health grant, "Perinatal Nurse Home Visitation Enhanced with mHealth," which tests the use of computer tablets for screening and intervening for IPV in the home. Most recently, Sharps received a two-year $1.2 million grant from the Health Services Resources Administration, "Advanced Nurse Education Workforce (ANEW)," which provides scholarships to primary care nurse practitioner students preparing to work in underserved areas with underserved populations.
In 2009, Sharps gave testimony before the U.S. Congress, including to then-Speaker of the House Nancy Pelosi, on the need to reform health care to provide better access to evidence-based nursing practice for pregnant women and new mothers. Other important policy initiatives have resulted in appointments to the Institute of Medicine (now National Academy of Medicine) Board on Military and Veterans Health, and the IOM Committees on the Qualifications of Professionals Providing Mental Health Counseling Services under TRICARE. Appointment to the veterans health committee was in recognition of her work as a nurse.
Sharps is a fellow of the American Academy of Nursing and a member of the International Nurse Researcher Hall of Fame of the Sigma Theta Tau International Nursing Honor Society.