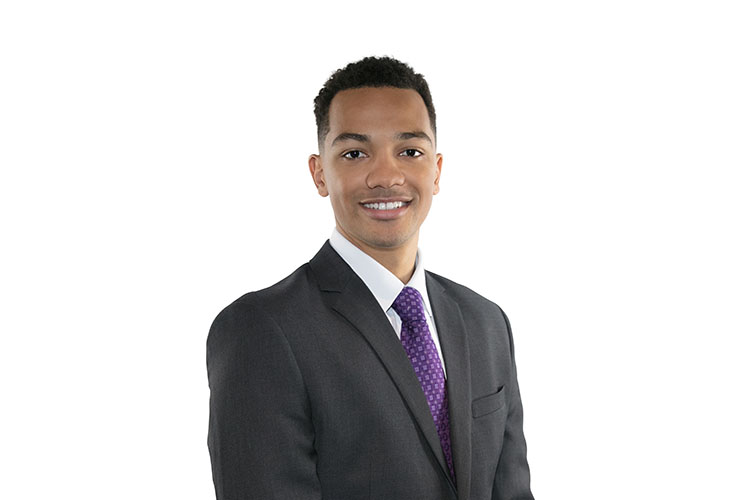 Phillip McGloin, a May 2018 graduate of the College of Arts and Science, has been named to the 2021 class of Schwarzman Scholars, one of the world's most prestigious graduate fellowships. Located at Schwarzman College at Tsinghua University in Beijing, the Schwarzman Scholars Program is designed to prepare future global leaders to meet the geopolitical challenges of the 21st century. McGloin is one of 145 scholars selected from more than 4,700 applicants through a rigorous process that identifies academic ability as well as leadership potential and strength of character.
"I'm thrilled to be accepted into a pioneering and unique global program at Tsinghua University that will help me build relationships with a diverse group of people from around the world," McGloin said. He'll pursue a master's degree in global affairs, which he anticipates will prepare him for a future career in the international sports industry. Beyond the classroom, McGloin and his fellow scholars will gain access to important relationships through internships, mentors, high-profile speakers and opportunities to travel throughout China. McGloin noted that he's "especially enthusiastic about being physically located in Asia at an optimal time, with the 2020 Summer Olympics in Tokyo and the 2022 Winter Olympics in Beijing."
While at Vanderbilt, McGloin majored in economics and political science and immersed himself in international experiences and athletics. Having developed a strong interest in China during middle school from watching Jackie Chan films and the 2008 Olympics, he studied Chinese in Shanghai for a month during the summer of 2015 and for eight weeks at National Taiwan University in Taipei in summer 2017. He was a member of Vanderbilt's varsity men's basketball team during his first three years at the university.
While being named a Schwarzman Scholar is a significant honor, it's not the first major award for McGloin. As a senior, he was selected for the Luce Scholars Program, a nationally competitive fellowship created to enhance the understanding of Asia among potential leaders in American society. As a member of the 2018-19 class of Luce Scholars, McGloin combined his passion for sports and his interest in Asia into a professional placement in Xiamen, China, with Anta Sports Products Limited, the biggest sports brand in the country.
He served as an overseas marketing manager for Anta in charge of several cooperative projects with American companies and NBA players. The experience "offered a level of exposure I doubt I could have gotten anywhere else in my first year out of college," McGloin said.
For example, he managed the design and development of Gordon Hayward's first signature basketball shoe, planned shoe release events and starred in commercials to promote Klay Thompson's KT5 shoe, hosted Anta's annual gala in Chinese in front of an audience of 5,000, and led the pitch meeting to No. 1 overall draft pick Zion Williamson.
For McGloin, spending another year in China as a Schwarzman Scholar is a "chance for me to research how the Asia sports market is developing, meet decision makers, and predict what's coming in the future," he said. The additional year in China also will allow him to further strengthen his advanced Chinese language skills. McGloin said he's honored to be part of the mission of the Schwarzman Scholars Program to deepen an understanding between China and the rest of the world, embarking on a path his middle school self would never have imagined.
The Career Center supports current undergraduates and recent Vanderbilt University alumni in the fellowship application process. Those interested in the Schwarzman Scholars Program, Luce Scholars Program or other competitive fellowships should contact Jackie Sheridan, associate director of Post-Baccalaureate Opportunities.