Hundreds of students, faculty, staff and community members gathered at the Student Life Center on Wednesday afternoon to greet Daniel Diermeier, who was named as Vanderbilt's ninth chancellor earlier in the day. Board of Trust Chairman Bruce Evans announced Diermeier's appointment in a message to the Vanderbilt community on Dec. 4.
"It is an honor to be named chancellor of one of America's top research universities—a university that has been on a meteoric rise," Diermeier said. "I am proud to join the Vanderbilt community at this time and to help write the next chapter." Diermeier's term as chancellor will begin on July 1, 2020.
An internationally renowned political scientist and management scholar, Diermeier currently is the provost at the University of Chicago, where he previously served as dean of the Harris School of Public Policy. He is a member of the American Academy of Arts and Sciences and a Guggenheim Fellow.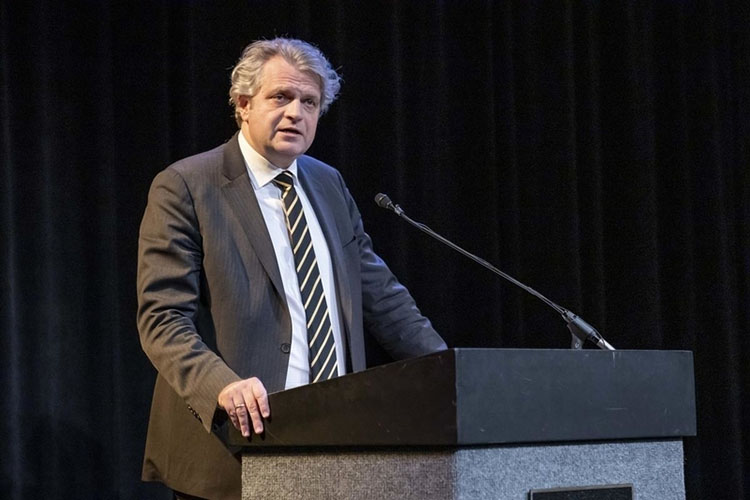 "I was drawn to Vanderbilt because of its current strength, its ability to distinguish itself in a rapidly changing landscape, and the clear desire of its community to grow and change in pursuit of its mission," Diermeier said. He also noted the university community's strong sense of values and cooperative culture, and said he planned to seek regular counsel and advice from Interim Chancellor and Provost Susan R. Wente and Cornelius Vanderbilt Chancellor Emeritus Nicholas S. Zeppos.
"We have an incoming chancellor who believes in Vanderbilt University, who will continue to elevate our trajectory as one of America's leading research universities, and who will do that with intelligence, insight and integrity," said Evans in his introduction of Diermeier. Evans went on to thank the Vanderbilt community for its high level of engagement throughout the eight-month search process, the Chancellor Search Committee and Chancellor Search Advisory Committee, and Wente, who has served in the interim chancellor role since Aug. 16.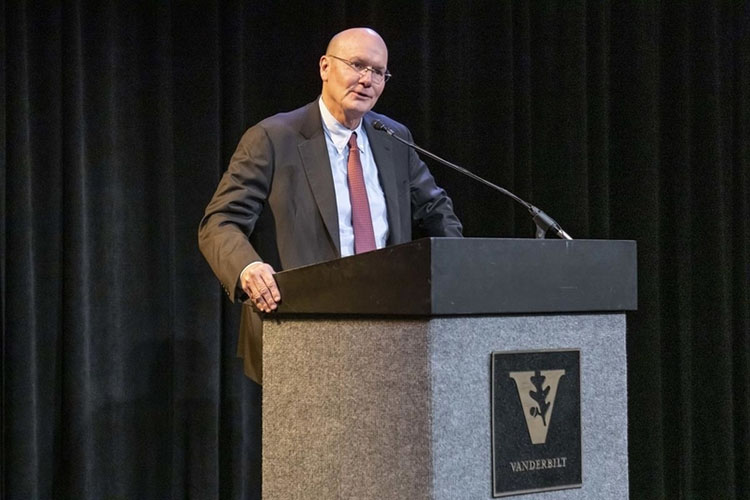 "I am endlessly grateful to Interim Chancellor and Provost Susan R. Wente, who has adeptly led our university and will continue to do so," Evans said.
Diermeier concluded his remarks by telling the assembled crowd he looks forward to the work and collaboration that lay ahead.
"All of you in this room—you are why I am so proud to come to Vanderbilt," Diermeier said. "The work you do each day, the energy you bring to this campus, the struggles and successes you share with this community—each of those drives my commitment to this university and will shape my leadership of Vanderbilt."
Read what people are saying about Incoming Chancellor Daniel Diermeier. >>