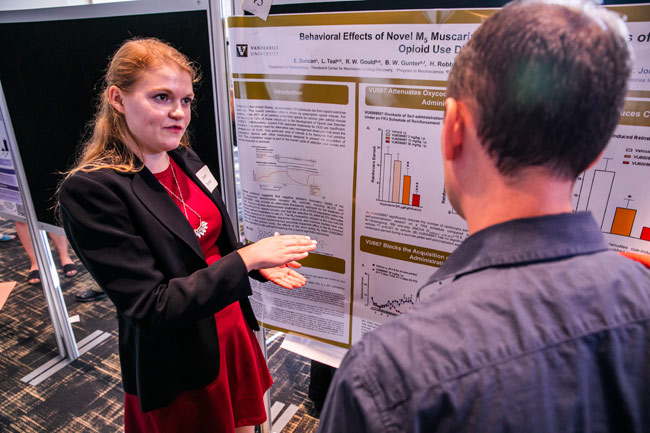 Applications are now open for the summer 2020 cycle of the Vanderbilt Undergraduate Summer Research Program, which provides awards of $5,000–$6,000 to rising sophomores, juniors and seniors engaged in 10 weeks of full-time research with a full-time Vanderbilt faculty member. Students can use their VUSRP experience to satisfy Immersion Vanderbilt.
The program provides a unique opportunity to develop valuable skills by working closely with a faculty member on joint research efforts. Applicants are expected to identify their own faculty mentor and must gain that professor's sponsorship prior to applying. A faculty member may sponsor no more than two student applications.
Applications can span research in any field and across all disciplines, including the social sciences and humanities. Past examples include:
"Understanding Gender Equality in Education: A Comparative Analysis in Nepal, Jordan and Chile," completed in the College of Arts and Science;
"Undocumented and Cost-Burdened: Immigrant Housing Access in Nashville, TN," completed in Peabody College of education and human development;
"Modeling Distributional Uncertainty in Autonomous Driving," completed in the School of Engineering; and
"Predicting Platelet Counts and Acute Kidney Injury After Cardiac Surgery," completed in the School of Medicine.
In addition to a VUSRP information session on Nov. 6, the Office of Immersion Resources launched two new programs to assist students as they apply to VUSRP. Through a partnership with the Writing Studio, OIR hosted the first-ever VUSRP Application Writing Workshop on Nov. 12, where participants heard from a panel of previous VUSRP awardees and reviewed notable applications from the 2019 VUSRP cohort. A peer review workshop is being planned for January 2020 and will allow students to receive feedback on their application from previous awardees prior to the application deadline on Jan. 30, 2020, at noon.
Students who receive VUSRP awards are required to engage in full-time research from June 1 through Aug. 7, 2020. Additionally, all award recipients are expected to present their research at roundtable discussions during the summer and at the Undergraduate Research Fair.
Answers to frequently asked questions about VUSRP can be found on the program website. Other questions about the program or the application process should be directed to the Office of Immersion Resources by emailing immersion@vanderbilt.edu.