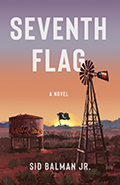 Seventh Flag: A Novel (2019, SparkPress) by Sid Balman Jr., BA'80.
No place is immune from radicalism, including the small West Texas town of Dell City, where four generations of an iconic American family and a Syrian Muslim family carve a farming empire out of the unforgiving high desert. Their partnership is as unlikely as the idea of the United States, and their powerful friendship can be traced back to a bloody knife fight in a Juarez cantina just after World War II. Underlying their experiences is the basic question of what constitutes identity and citizenship in America, or in Texas, a land over which six flags have flown. The seventh flag is not one of a state or a nation, but of a mosaic of cultures, religions and people from every corner of the world―all struggling to define what it means to be unified under an ambiguous banner.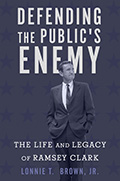 Defending the Public's Enemy: The Life and Legacy of Ramsey Clark (2019, Stanford University Press) by Lonnie T. Brown Jr., JD'89
What led a former United States Attorney General to become one of the world's most notorious defenders of the despised? Defending the Public's Enemy examines Ramsey Clark's enigmatic life and career in a quest to answer this perplexing question. The culmination of 10 years of research and interviews, Brown explores how Clark evolved from our government's chief lawyer to a strident advocate for some of America's most vilified enemies.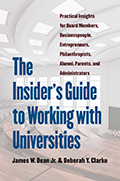 The Insider's Guide to Working with Universities: Practical Insights for Board Members, Businesspeople, Entrepreneurs, Philanthropists, Alumni, Parents, and Administrators (2019, University of North Carolina Press) by James W. Dean Jr. and Deborah Y. Clarke, MEd'98
Colleges and universities stand to benefit greatly when businesspeople engage with them, whether through governing boards, alumni associations, consulting arrangements, philanthropy or other channels. But many businesspeople are frustrated by the way institutions of higher education work—or rather, how they don't work. As leaders in higher education, Dean and Clarke have years of experience for a wide range of professionals outside the academy. This book draws on their expertise to offer real-world guidance for businesspeople who work with and seek to improve colleges and universities.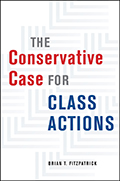 The Conservative Case for Class Actions (2019, University of Chicago Press) by Brian T. Fitzpatrick, professor of law
Starting from the premise that everyone, conservatives and libertarians included, believe that markets need at least some rules to thrive, Fitzpatrick argues that class action litigation should not be seen as a danger to the economy, but as a form of private enforcement of the laws that prevent companies from committing fraud. He also reminds the reader that conservatives consider the private sector to be superior to the government in most areas. The relatively little-discussed intersection of those two beliefs is where the benefits of class action lawsuits become clear: When corporations commit misdeeds, class action lawsuits enlist the private sector to intervene, resulting in a smaller role for the government, lower taxes, and, ultimately, more effective solutions.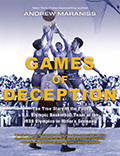 Games of Deception: The True Story of the First U.S. Olympic Basketball Team at the 1936 Olympics in Hitler's Germany (2019, Philomel Books) by Andrew Maraniss, BA'92
By 1936 Adolf Hitler had been in power in Germany for three years. Jewish people and political opponents of the Nazis were the targets of vicious mistreatment, yet were unaware of the horrors that awaited them in the coming years. But the Olympians on board the S.S. Manhattan and other international visitors wouldn't see any signs of trouble in Berlin. Streets were swept, storefronts were painted, and every German citizen greeted them with a smile. Like a movie set, it was all just a facade, meant to distract from the terrible things happening behind the scenes. This book for middle readers tells the story of basketball's Olympic debut in Berlin and the eclectic mix of people, events and propaganda on both sides of the Atlantic that made it all possible.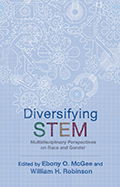 Diversifying STEM: Multidisciplinary Perspectives on Race and Gender (2019, Rutgers University Press) edited by Ebony McGee, associate professor of teaching and learning, and William H. Robinson
Research frequently neglects the important ways that race and gender intersect within the complex structural dynamics of STEM. Diversifying STEM brings together a wide array of perspectives and the voices of a number of multidisciplinary scholars to fill this void. The essays cover three main areas: the widely-held ideology that science and mathematics are "value-free," which promotes an avoidance of discussions around using STEM to promote social justice; how male and female students of color experience the intersection of racist and sexist structures that lead to general underrepresentation and marginalization; and the recognition that although there are no quick fixes, there exists evidence-based research suggesting concrete ways of doing a better job of including individuals of color in STEM fields.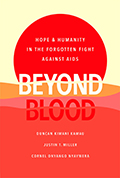 Beyond Blood: Hope and Humanity in the Forgotten Fight Against AIDS (2019, Greenleaf) by Justin Miller, BS'09, Cornel Onyango Nyaywera and Duncan Kimani Kamau
Written by three co-founders of CARE for AIDS—a nonprofit providing support for men and women living with HIV/AIDS in East Africa—Beyond Blood is the true-life account of how three men from drastically different backgrounds came together to form a grassroots nonprofit that has empowered thousands of HIV-positive people in East Africa to live lives beyond AIDS. Miller is the recipient of Vanderbilt's 2019 Young Alumni Professional Achievement award.
Older, Wiser, Fiercer: The Wisdom Collection (2019, independently published) by Carol Orsborn, MTS'97, PhD'02
Inspired by timeless wisdom, bestselling author Carol Orsborn speaks to a new generation coming into age with honesty, passion and grace. Orsborn's bestselling book The Spirituality of Age: A Seeker's Guide to Growing Older (2015, Park Street Press), coauthored with Dr. Robert L. Weber, won gold in the category of aging consciously at the 2015 Nautilus Book Awards.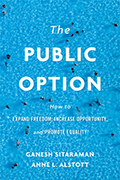 The Public Option: How to Expand Freedom, Increase Opportunity, and Promote Equality (2019, Harvard University Press) by Ganesh Sitaraman, professor of law, and Anne L. Alstott
In The Public Option, Ganesh Sitaraman and Anne Alstott challenge decades of received wisdom about the proper role of government and consider the vast improvements that could come from the expansion of public options. Far from illustrating the impossibility of effective government services, as their critics claim, public options hold the potential to transform American civic life, offering a wealth of solutions to seemingly intractable problems, from housing shortages to the escalating cost of health care.
Read Ganesh Sitaraman and Anne Alstott's argument in The New York Times that Americans love public options (and have relied on them for hundreds of years)—they just don't usually think about them with that label.
Overdoing Democracy: Why We Must Put Politics in its Place (2019, Oxford University Press) by Robert B. Talisse, W. Alton Jones Professor of Philosophy
As political beliefs on the left and the right have been pulled closer to the extremes, so have our social environments: We seldom interact with those with whom we don't see eye to eye. Making matters worse, we are being appealed to—by companies, products and teams, for example—based on our deep-seated, polarized beliefs. By limiting our interactions with others and our experience of the world so that we only encounter the politically like-minded, we are actually damaging the thing that democracy is meant to preserve in the first place: the more fundamental good of recognizing and respecting each other's standing as equals. Drawing on extensive research, Talisse sheds light on just how deeply entrenched our political polarization has become and reveals how often we allow politics to dictate the way we see almost everything.
Amy Wu and the Perfect Bao (2019, Simon & Schuster) by Kat Zhang, BA'13, illustrated by Charlene Chua
The funny, fierce and fearless Amy Wu is determined to make a perfect bao bun today. Can she rise to the occasion? Amy loves to make bao with her family. But it takes skill to make the bao taste and look delicious, and her bao keep coming out all wrong. Then she has an idea that may give her a second chance. Will Amy ever make the perfect bao? This picture book answers the question.