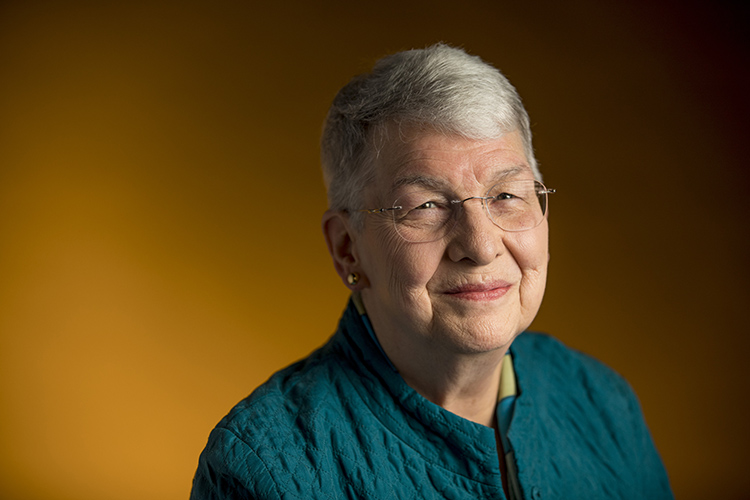 M. Fräncille Bergquist, a beloved professor of Spanish, emerita, and retired College of Arts and Science administrator who devoted much of her life to advising and mentoring thousands of undergraduate students, died Nov. 17 in Nashville. She was 74.
"Fräncille had a wonderful talent for believing in our students and motivating them to do their very best," said Roger Moore, associate dean in the College of Arts and Science and principal senior lecturer in English. "She also strengthened faculty-student relations and was always willing to advise faculty on how to handle challenging and sensitive issues with their students. Fräncille lived a full life in service to Vanderbilt, leaving a meaningful and lasting influence on students, faculty, staff, alumni and community members."
Bergquist was born on Nov. 24, 1944, in Shreveport, Louisiana. Her freshman year of college was spent at Lousiana State University, where she developed a passion for the study of languages.
When her family moved to Italy, Bergquist attended the University of Barcelona in Spain. Upon returning to the states, she enrolled at Texas Tech University, graduating cum laude with a degree in Spanish in 1968. She was awarded a doctorate in Spanish linguistics from Texas Tech in 1977. That year, Bergquist joined the Vanderbilt faculty as an assistant professor in the Department of Spanish and Portuguese.
In 1983, Bergquist was appointed associate dean of academic affairs in the college. She played a significant role in freshmen orientation for many years and organized the faculty pre-major advising program for first-year Arts and Science students. That is how Terryl and Jon Hallquist, who are now professors of theatre, emeriti, met Bergquist.
"Fräncille always managed to make the faculty training a joyful occasion, and we knew that she was tireless in her dedication to the university," Terryl Hallquist said. "We remained friends with her after retirement and observed that she continued to serve the university in many ways, including teaching in Vanderbilt's Osher Lifelong Learning program and leading international alumni education trips."
Berguist helped establish the MyTyeire International House and served as an adviser on the Spanish Hall for many years. She was an early proponent of creating a residential college system on campus.
Cynthia Wasick, a senior lecturer in Spanish and Portuguese, was another close friend and colleague of Bergquist. "She was a favorite professor in our department, as students wanted to have the 'Bergquist experience,'" Wasick said. "Her course on translation and interpretation was especially popular, and students often sought her out for advice because of her warm and personal demeanor. She also was an excellent teacher who could break down complex ideas in the classroom."
Bergquist's numerous faculty honors began in 1983, when she was the recipient of the Madison Sarratt Award for Undergraduate Teaching. During the early 2000s she received the Alumni Education Award and the Chancellor's Cup, the latter for her contributions to student-faculty relationships outside the classroom.
Wasick noted that Bergquist was active in many professional organizations, including the Tennessee Foreign Language Teaching Association, where she served as treasurer from 1995 to 2018.
Bergquist became professor of Spanish, emerita, in 2013. She recently endowed the Fräncille Bergquist Scholarship as part of Opportunity Vanderbilt, and met the first Bergquist Scholar, Sam Cho, who expressed deep gratitude for her generosity. "Her support for me transcends that of merely paving a way for opportunities and touches even the academic and personal aspects of my Vanderbilt experience," Cho said.
Bergquist is survived by her sister-in-law, GaeNell Bergquist Trommald; and cousins Grant Bergquist, Roger Evans, Carol Harrington and Kim Harrington.
A service will be held at St. Henry Catholic Church on Tuesday, Nov. 26, at 10 a.m. No visitation is scheduled, and the burial will be private.
In lieu of flowers, the family suggests donations be made to the Fräncille Bergquist Scholarship, TFLTA Aliene Click Scholarship Award, St. Jude Foundation, or St. Henry Catholic Church.