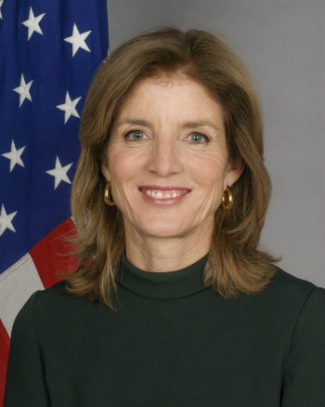 Best-selling author, attorney and former U.S. Ambassador to Japan Caroline Kennedy will receive Vanderbilt University's prestigious Nichols-Chancellor's Medal in May 2020, when she speaks to the university's graduating students and their families.
Kennedy's address will take place on Graduates Day, which is May 7, at Memorial Gymnasium. The event, previously known as Senior Day, is being renamed Graduates Day to be more inclusive to all Vanderbilt students, including graduate, professional and undergraduate students, who will earn a degree the following day.
The Nichols-Chancellor's Medal, one of the university's highest honors, is given to individuals who define the 21st century and exemplify the best qualities of the human spirit. It was created and endowed by Vanderbilt Law School graduate Ed Nichols and his wife, Janice, in honor of Edward Carmack and Lucile Hamby Nichols.
Kennedy, the daughter of President John F. Kennedy and First Lady Jacqueline Kennedy Onassis, has dedicated her life to public and philanthropic service. Kennedy was the first woman to serve as U.S. ambassador to Japan when she was nominated by President Barack Obama in 2013. During her tenure, she helped realize the U.S. military's return of nearly 10,000 acres on Okinawa to the Japanese government and played a pivotal role in Obama's historic visit to Hiroshima. She was also an advocate for Japanese women in business and politics.
Kennedy has authored, co-authored or edited more than a dozen books on American history, politics, constitutional law and poetry. Among her 11 New York Times bestsellers are: She Walks in Beauty: A Woman's Journey Through Poems, A Family of Poems: My Favorite Poetry for Children and The Best-Loved Poems of Jacqueline Kennedy Onassis.
Kennedy has been active in school reform efforts. From 2002 through 2011, she served as vice chair of the Fund for Public Schools, an organization dedicated to engaging the private sector in school reform.
She is the honorary president of the John F. Kennedy Library Foundation and honorary chair of the Senior Advisory Committee of the Harvard University Institute of Politics.
Kennedy earned a bachelor of arts from Harvard University and a law degree from Columbia University.
For more information about Graduates Day and other related events, visit the Vanderbilt Commencement website.