Media Inquiries
Latest Stories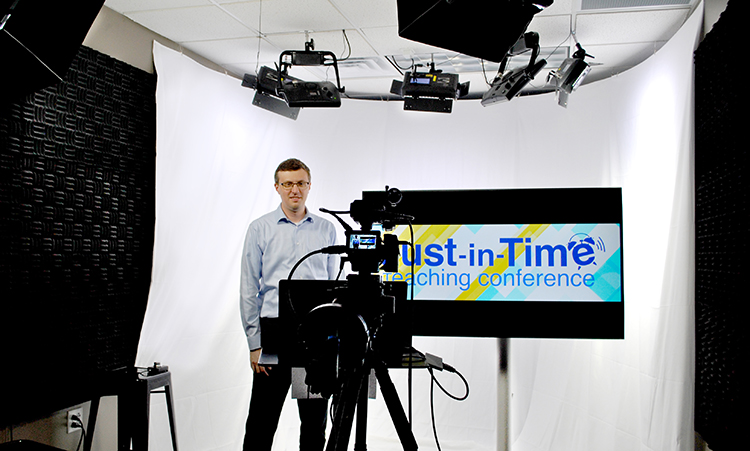 The Center for Teaching's new One Button Studio is now available for faculty and other instructors to use in support of their teaching.
The One Button Studio is an automated video studio that can be used without any previous video production experience. Users simply plug a flash drive into a USB port and push a button to start recording. All of the lighting, audio and video equipment is pre-set.
"Short, instructor-created videos can play a variety of useful roles in both face-to-face and online teaching," Derek Bruff, director of the Center for Teaching, said. "I'm glad the center can offer this new resource to help faculty create educational videos quickly and easily."
Faculty are encouraged to use the studio to create educational videos for student review, flipped classrooms, online teaching and more.
"The One Button Studio provides opportunities for using new technologies as well as support for all faculty to achieve their academic and professional goals," said Tracey George, vice provost for faculty affairs. "It allows for innovative ways to capture and share scholarship while also pushing forward the principles of the university's Academic Strategic Plan by making education accessible and educating the whole person."
The One Button Studio is the first of several new digital media services the Center for Teaching is rolling out this academic year, thanks to CFT educational technologist Rhett McDaniel and the center's newest staff member, Carly Byer, who joined in October as a digital media specialist.
"Faculty have lots of options for using technology in their teaching," McDaniel said. "I enjoy helping faculty explore those options and learn the tools they need to implement them." McDaniel and Byer are available to help faculty create and use digital media, including video and audio, in their teaching.
Drop in to see the studio, located in the Baker Building, Room 801, or contact Byer to learn more about the room or to book recording time. Drop-in hours are every Monday from 3 to 5:30 p.m. and Thursday from 9 a.m. to noon.