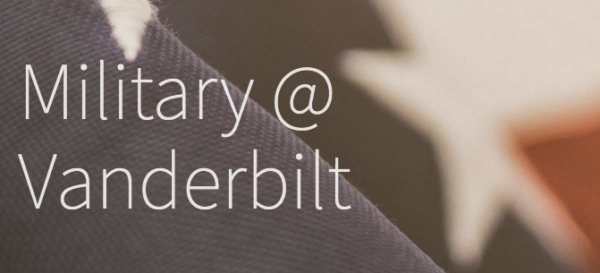 Vanderbilt has launched a new website designed to showcase the broad array of programs, support and resources available to military service members and veterans at the university. The Military at Vanderbilt website, launched on Veterans Day, provides clear and accessible information for community members to learn more about the university's support of veterans and partnerships with the military.
"Vanderbilt has long recognized the importance of supporting the individuals in our community and beyond who have served, or are serving, in the military," said Interim Chancellor and Provost Susan R. Wente. "In addition to education and career opportunities for veterans, our research and scholarship are making discoveries that boost safety and quality of life for soldiers serving around the world. This includes our new Army Futures Command partnership. Veterans and service members expand our perspectives at Vanderbilt, and I am proud to spotlight them on the new Military at Vanderbilt website."
The website serves as a centralized hub to connect Vanderbilt community members to information about the university's resources related to military service members and veterans, including easily accessible links to GI Bill benefits and resources available within many of Vanderbilt's schools and colleges.
The new website also includes news stories, profiles and video features of Vanderbilt community members who are veterans or are currently serving in the military, as well as information about campus programs and initiatives such as the Army Reserve Officers' Training Corps, the Naval Reserve Officers Training Corps, the Bass Military Scholars Program, the Army Futures Command partnership and more.
The launch of the Military at Vanderbilt website coincides with Veterans Day and the numerous military and veteran-related programs and events scheduled at Vanderbilt in honor of the day, including an event featuring former CBS News correspondent Morton Dean and a screening of his film, American Medevac.
Wente's latest Open Mind column provides additional perspective on Vanderbilt's deep commitment to and connection with the military and veterans, as well as some of her own familial connections to the military.
Visit the Military at Vanderbilt website to learn more about the university's efforts to support military service members and veterans.