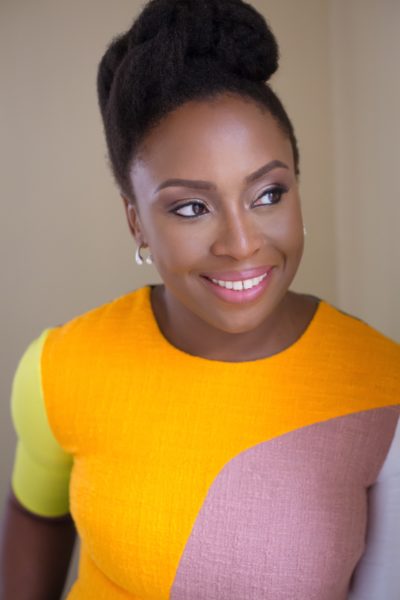 Acclaimed author and feminist Chimamanda Ngozi Adichie will keynote a signature event as part of the Vanderbilt University Chancellor's Lecture Series on Nov. 21. Adichie's talk, "Writer, Thinker, Feminist: Vignettes from Life," will take place at 6:30 p.m. in Langford Auditorium. The event, hosted by Interim Chancellor and Provost Susan R. Wente, is free and open to the public.
Adichie will discuss her writing and experiences speaking around the world about feminism and the power of individual stories. Following the keynote talk, Gertrude Conaway Vanderbilt Distinguished Professor of Humanities Tracy D. Sharpley-Whiting, who chairs African American and Diaspora Studies, and Arelis Benítez, a graduate student in Religion, Psychology and Culture, will lead a question-and-answer session with Adichie. A book signing will follow the event.
Admission to Adichie's lecture is open on a first-come, first-served basis, with free parking in the 25th Avenue Garage. Confirm your attendance for the event.
A native of Nigeria, Adichie's work has been translated into more than 30 languages; her novels, essays and short stories have won numerous awards; and her TED Talk, "The Danger of a Single Story," is among the most viewed of all time. Adichie's writings and talks often focus on how individual experiences and stories can provide insight into feminism, intersectionality, cultural identity and more.
In 2003, she released her first novel, Purple Hibiscus, which won the Commonwealth Writers' Prize and the Hurston/Wright Legacy Award. Her 2013 novel, Americanah, won the National Book Critics Circle Award. Dear Ijeawele, or a Feminist Manifesto in Fifteen Suggestions, her most recent work, was published in 2017 and is written in the form of a letter to a friend advising her on how to raise her newborn daughter as a feminist.
In 2008, Adichie was selected as a MacArthur Fellow, receiving an award commonly known as a MacArthur "Genius Grant." She was also one of 15 women described as "Forces of Change" by British Vogue and selected by Meghan, Duchess of Sussex, to appear on the cover of the September 2019 issue.
Adichie, who splits her time between the United States and Nigeria, holds a bachelor of arts from Eastern Connecticut State University and master's degrees from Johns Hopkins University and Yale University.
Adichie's visit is part of the fall lineup of the Chancellor's Lecture Series, which has the theme of "Culture of Respect; Culture of Caring," aligning with efforts across Vanderbilt to support and build connections among the university's inclusive, cooperative community.
The Chancellor's Lecture Series strives to connect the university and the Nashville community with leaders and visionaries who are shaping our world. For more information about the series, visit the Chancellor's Lecture Series website, email cls@vanderbilt.edu or follow @VU_Chancellor on Twitter and Instagram.