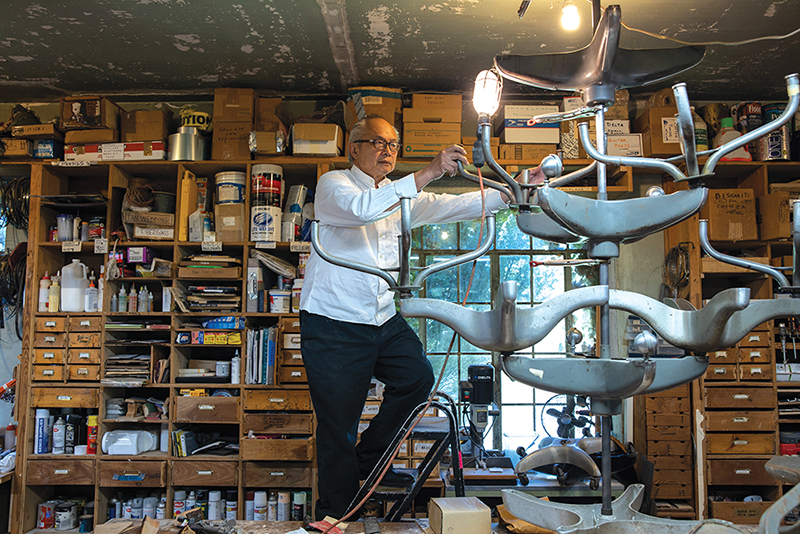 Visionary artist Mel Chin, BA'75, was named Sept. 25 among the class of 26 MacArthur Fellows for 2019.
Given by the John D. and Catherine T. MacArthur Foundation and known colloquially as the "genius" grant, the fellowship honors "extraordinary originality" and comes with a no-strings-attached grant of $625,000, to be distributed over five years.
Chin, who at 67 was this year's oldest recipient, told The New York Times, "I don't want to use the word 'responsibility,' but this felt like an acknowledgment that maybe after a life's work, you just need to do more."
Chin was the recipient of the Distinguished Alumnus Award for Peabody College in 2017.
Born in Houston in 1951 and reared in the African American and Latino neighborhood known as the Fifth Ward, Chin graduated from Peabody with an art degree in 1975.
Chin's conceptual and visual art is inspired by political and social dilemmas, provoking discussion and evading easy classification. As a sculptor he has pioneered new forms of environmental art by addressing issues of habitat devastation, restoration, and sustainment of the planet's biodiversity. His pieces have been installed in unlikely places, from destroyed homes and toxic landfills to the set of the 1990s television drama Melrose Place.
Chin uses his art to challenge the idea of the artist as the exclusive creative force behind an artwork. Known for using multidisciplinary, collaborative teamwork, he has enlisted entire neighborhoods and groups of students to create art that promotes community and social change.
Chin's work was documented in the 2016 PBS series Art:21—Art in the Twenty-First Century. In April 2018 he had a major survey exhibition at Queens Museum while concurrently presenting multiple installations throughout New York City. A two-part mixed reality installation, Wake and Unmoored, flooded Times Square with virtual-reality art intended to present an otherworldly, prophetic vision of a city overrun by climate change, completely submerged by rising tides.
Twice a National Endowment for the Arts fellow, he has received many awards and grants from organizations such as the New York State Council for the Arts, Art Matters and Creative Capital, as well as from the Penny McCall, Pollock/Krasner, Joan Mitchell, Rockefeller and Louis Comfort Tiffany foundations, among others.
Chin lives in Burnsville, North Carolina, with his wife, Helen Nagge Chin, BA'76, who also graduated from Peabody.
"Peabody provided me with a few instructors who encouraged my creativity," Chin said when he received the Distinguished Alumnus Award. "They witnessed my eccentric, youthful behavior—leaping from one medium to another—and saw it not as something that needed discipline but as a search for multiple means of expression that craved expansion."