Media Inquiries
Latest Stories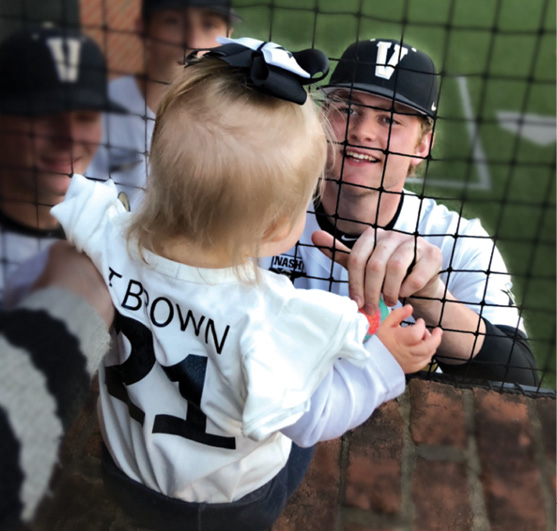 The 2019 College World Series produced a number of compelling storylines as Vanderbilt's baseball team claimed its latest NCAA championship. But one in particular—that of relief pitcher Tyler Brown and his daughter, Bella—captured the hearts of 'Dores fans across the nation.
Bella, a 1-year-old who has both Down syndrome and a life-threatening heart condition, emerged as one of the surprising stars of the tournament, cheering the team to victory from Ohio while she recovered from a medical procedure. Her story of perseverance even inspired singer Brett Michaels, the former frontman for the band Poison and now a Nashville resident, to announce on Twitter that he was pledging $10,000 to a charity of Brown's choice.
It's a scenario Brown, a junior majoring in American studies, never could have imagined as an incoming freshman in 2017, when his place with the heralded Vanderbilt baseball program felt unsure. Just three weeks before the start of the fall semester that year, he'd been in the position of having to call Head Coach Tim Corbin with some potentially unwelcome news.
"I thought, he's not coming to school. This is what he's going to tell me; he's not coming to school," says Corbin, who knew that Brown had weathered challenges that made his ascension to college athletics a far-fetched notion.
The news, however, caught Corbin off guard.
Brown informed Corbin that he and his girlfriend, Jocelyn Butcher, were expecting a baby. Corbin had never coached a Vanderbilt player who'd had a child during his college career, but he was encouraging nonetheless.
"I was like, 'Let's go,'" Corbin recalls. "'We'll work this out. We'll make this part of you better and happier.'"
'BEYOND BASEBALL'
Happiness was in short supply during Brown's childhood in Ashland, Ohio. His mother, Cindy, died from a stroke when he was 12.
She had been the family's primary caregiver, often working multiple jobs as a single mother. In the days following her death—the death of his biggest cheerleader, in life and on the baseball field—a 12-year-old Brown came to grips with his new reality.
"I thought, 'I'm alone. This is all on me,'" he recalls.
As a teenager, Brown bounced around from one friend's house to another, staying with extended family for stretches at a time. But he ultimately found stability through Brandon Oswalt, who had coached Brown in summer baseball leagues in Ohio. Oswalt and his wife, Koren, legally adopted Brown in 2014.
"When I say someone is family, it means more than the average person," Brown says. "Brandon and Koren—no matter how many times I've tried to push them away, they're still standing there. … That's empowering."
Brown found the same kind of loyalty with Vanderbilt baseball. He blew out his right elbow as a junior at Olentangy Orange High School, the very week Corbin and his wife, Maggie, had come on a recruiting visit to watch him. Other coaches shied away from the injured pitcher. Corbin stuck with him—something Brown has never forgotten.
Now Brown takes lessons from Corbin on how to be a role model for Bella.
"He's a great person to have on your side and a great person to look up to," Brown says, adding that he has taken Corbin's lessons to heart about how to be a better person and a better father. "The relationship he builds with you is beyond baseball."
That maturity has coincided with Brown's evolution into one of the sport's premier relief pitchers.
In the team's 16 postseason games this year, Corbin turned to Brown to shut the door eight times, allowing just three earned runs in 13.2 innings of work. Brown earned four saves in that span, including three straight during the College World Series, claiming Vanderbilt's single-season saves record with a total of 17.
"He's very methodical in what he does, and I credit him with the ability to center himself," Corbin says. "I think that's because he's had to do that in life—he's had to center himself at certain points."
The ability to remain centered has been crucial for Brown as Bella faces her own obstacles. She was born with Down syndrome and tetralogy of Fallot, a condition that causes oxygen-poor blood to flow out of the heart. She had her first heart surgery at 5 months old, followed by a successful emergency operation this spring to address further complications within her heart.
Today, Bella continues to fight—and root for her father. Whenever Brown takes the mound next, there's no doubt he will have his daughter on his mind.
"She empowers me," he says. "She's my hero."
—ZAC ELLIS
---
Watch a video about Brown's remarkable journey to Vanderbilt and his special bond with Bella:
---