For many first-year Vanderbilt students, moving to Nashville is the equivalent of registering for Southern Food 101. That's what it was like for Joe Ariel, BA'99, who had tasted only lackluster imitations of Southern cuisine in his native New York. During his four years at Vanderbilt, the economics major sampled everything from barbecue and biscuits, to hot chicken and creamed corn, all prepared in an authentic Southern way. Those same foods are what inspired Ariel to launch Goldbelly, an online gourmet marketplace featuring America's most iconic and unique foods, such as Philly cheesesteaks and Chicago deep dish pizza. The e-commerce site, which was named one of Time magazine's Top 50 Websites in America, now features one-of-a-kind regional dishes from more than 450 businesses. With the help of his team, food artisans from Florida to Washington—and everywhere in between—can ship their signature dishes all over the country. Ariel talked with Vanderbilt Magazine about his path to Goldbelly and his desire to upend the food industry.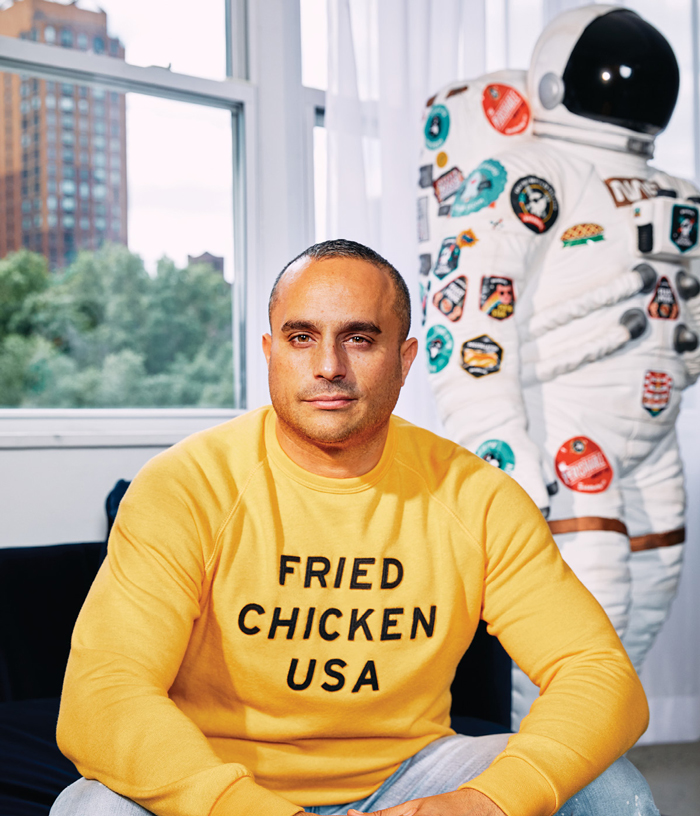 What was it like being exposed to Southern food when you arrived on campus?
The best way I can describe it was like going to Mars. I could go wherever I wanted and try anything I wanted. I didn't have a car, but I found a way to Loveless Café. That excursion was an experience in and of itself: the half-hour drive, the country ham, those buttery biscuits—and jams in every flavor you can imagine. And who doesn't love Arnold's Country Kitchen's meat and three's and Rotier's cheeseburgers on French bread?
How did these particular Nashville restaurants factor into the launch of Goldbelly?
In 2009 a food website I had started called eats.com was acquired by delivery.com, and for a few years after that I ran the joint business as CEO. For the first time in my career, I had money, but what I didn't have were creative freedom and the exhilaration I got from owning my own business. That's when I started thinking about Vanderbilt and Nashville and all those foods I loved but couldn't get locally. I began asking myself, "Why do I want those Nashville foods so much?" There is plenty of good food in New York. Then it hit me that there is an emotional aspect to food. Initially, I tried to bury the idea of a national food delivery business, but it kept coming back to me.
How did you try out the idea?
I started calling restaurant owners—some I knew and others I didn't. I would say something like, "I want Southern barbecue. Put it in a box, take it to FedEx, and ship it to me." The birth of Goldbelly was the emotional feeling that I had when the box arrived. When I saw the menus and the grease stains and smelled the smells that took me to a different place and a different time, I was moved to tears. I realized that nostalgia is the most delicious ingredient anyone could ever imagine. If I could put that in a bottle, everyone would love it because everyone is connected to food from their past—whether it's from their hometown, their college town, or their travels.
Did you face doubters along the way?
For sure. Even my co-founders, who obviously loved the concept, have recently told me they had some doubts that it would work in the early days! The feeling was, "It's a really cool idea, but it's crazy and it probably won't work." Actually, one of them is now my wife, Vanessa. She said at the time, "It sounds like the future—like something George Jetson would do." In the early days, when I called up restaurants to partner up, some said, "OK, we'll give it a shot." Others were like, "You're out of your mind. Lose my number until you have your first customer." Ironically, those happen to be some of our best partners now.
Last year New York City restaurateur Danny Meyer made a $20 million investment in Goldbelly. How did that come about?
Danny received a gift from someone that was sent through Goldbelly. It was a shipment of Ted Drewes Frozen Custard from St. Louis, where Danny grew up. He got emotional when he received it and started asking around about us. It was then that his daughter chimed in that their family freezer was filled with various ice creams from around the country that she had ordered on Goldbelly.
He fell in love with the concept. He became a customer and later reached out to say he loved what we were doing. He mentioned places he'd like to see on the site and ultimately joined our advisory board. We spent about a year getting to know each other and have become good friends. I like to say we are food explorers. He likes to say we are gastronauts. We both understand that food connects people and that good food brings comfort to people wherever they are. Danny and I are both using food to give people not just sustenance, but happiness and joy.
What is your goal for Goldbelly?
As of now, there are 2 million people who receive our emails or order with us and 450 craftsmen in our network. Every town has things they take great pride in, and our goal is to find every talented craftsman and make them part of our network. I believe there will come a time when we have 10 million customers and 1,500 businesses represented, and people will say, "Oh, just Goldbelly me that." We are just a platform, but we have an opportunity to redefine the gourmet and specialty food industry. It's an exhilarating mission for us and fun and exciting life's work—if I don't gain 300 pounds in the process.
---
Joe Ariel was interviewed by Elizabeth Cook Jenkins, BS'99.
---