By Laura Hutson Hunter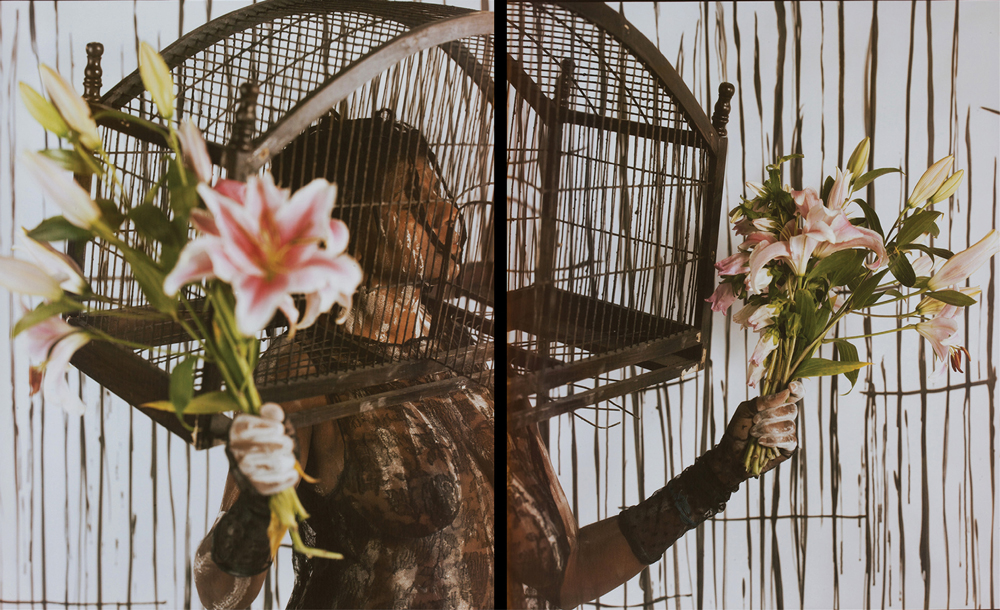 Maria Magdalena Campos-Pons, Cornelius Vanderbilt Professor of Art, is enjoying her time as a new resident of the American South. The Cuban-born artist was recently in Birmingham, Alabama, where she began a performance by addressing the crowd directly. "If you stay with me for a long enough time," she told them, "you are going to love me."
She repeats this declaration with complete confidence when she meets me in her 10th-floor apartment in midtown Nashville. She's striking, with her beautiful clothes, bright green manicure, and short spikes of dreadlocked hair. Campos-Pons, who goes by Magda, is inherently stylish. That may be a signal of her extraordinary mind—even typically routine acts like choosing a shirt or a color of nail polish are deeply considered.
She's also defiantly sentimental, and quickly convinces me that the anecdote she told me about Birmingham is more of a mantra. The solution to prejudice, hate and injustice exists in the same simple act: spending time with each other.
"I have never had fear of being corny," she says in Cuban-accented English. "I love people! I want to be cozy with people. I want to touch them at their softest points. That is what art can do—it can touch those places. Art is a tool of healing."
Campos-Pons joined the Vanderbilt faculty in 2017, and with her arrival came a visibility that only the most influential artists command. Her presence has raised the international profile of Nashville's visual arts community. Yet she doesn't pay attention to any of that, remaining steadfast in her devotion to using creativity as a tool for healing.
Far from seeing art as a self-indulgent quest, Campos-Pons says she wants her art to change the world. She just might succeed.
PLANTING A FLAG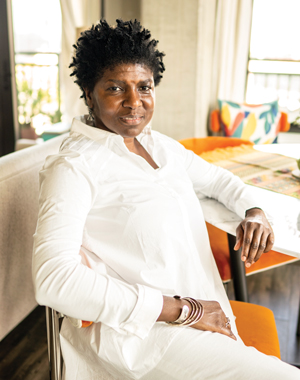 Campos-Pons was born in Cuba in 1959, the same year Fidel Castro came into power. She was raised on a sugar plantation in Matanzas, a town about 60 miles east of Havana, in a family with Nigerian, Hispanic and Chinese roots. That melting pot of ethnicities is not uncommon in the northern port town: A sharp rise in slave populations, including Chinese indentured servants, in postcolonial Matanzas resulted in moments when the city was more than 50 percent enslaved people.
Today the town is known for being a wellspring for artists and poets, an aspect that Campos-Pons says reminds her of Nashville. It is the city where the rumba was invented, and the city where the Cuban flag was designed.
"The place that gives you the flag gives you your identity," she tells me.
A conversation with Campos-Pons is circuitous, made ever richer under her direction. As she recounts stories from her childhood in revolutionary Cuba, she occasionally squeezes her eyes shut, as if it's easier to consider the past after bracing herself.
"I was an accident," she says. "My mother and father didn't plan for me. I snuck in, and I came with a mission."
That mission was simple: to disrupt.
She has three siblings—one 10 years older, one nine years older, and one five years younger. She describes her father by saying he would have been a conservative Republican had he lived in America.
When asked about her mother, she walks over to a wooden cupboard and pulls out two blue toile cloth napkins, two among dozens of cloth napkins in her collection. Campos-Pons hands them to me and asks me to look at the edge—it says Peter Pan Fabrics Inc. along the selvage, but the ends are delicately, perfectly hand-stitched.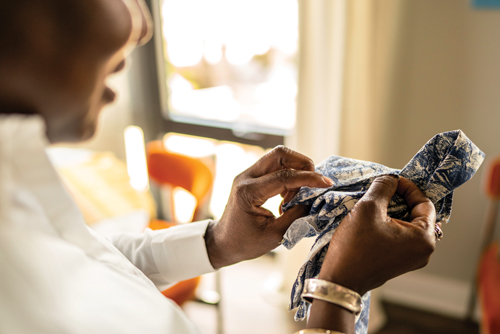 "That's my mother," she says of the napkins.
Her mother made them, Campos-Pons explains, during a visit with her daughter in Boston. The elderly mother was ever-productive and needed something to do in her free time.
She relays another story: Her father would sometimes come home from the farm after a long day, a machete at his hip, spurs on his boots clanging with each step, and he'd pull out a bouquet of fresh flowers for her mother. "He was such a gentleman," she recalls.
"See?" she says, pushing the napkins into my lap. "I was raised to understand beauty."
Both her parents have died—her mother's death was less than 10 years ago. Campos-Pons' voice wavers only slightly as she imparts that, in birth and death, no one is excluded.
"Who is spared from that passage?" she asks, widening her eyes to emphasize the point.
A CAREER BASED ON 'CHANGE AND CHANCE'
Campos-Pons tells stories to illustrate her ideas, but she doesn't let you in on what those ideas are until she's finished with all her stories. Her art works in much the same way: She presents you with a collection of images that, when taken in all at once, are like a "mind-meld" into another person's life.
As if taking a cue from her multiethnic roots, Campos-Pons' work resists categorization. Broadly speaking, she works with autobiographical themes, exploring memory, the trans-Atlantic slave trade, religious rituals and political revolutions. It spans photography, performance, drawing and audiovisual installations. Spoken Softly with Mama, a video installation, debuted at New York's Museum of Modern Art in 1998 (and was also on view at Nashville's Frist Art Museum in 2011) as part of her masterwork series, History of People Who Were Not Heroes. In that piece alone there is sculpture, painting, photography and performance.
Holland Cotter, the Pulitzer Prize–winning New York Times art critic, is among Campos-Pons' legions of fans. "As a critic and historian," he says, "I long considered her to be one of the most original and important artists to emerge from the great multicultural wave of the 1980s and 1990s.
"To base a career on change and chance really takes courage, which, when I met Magda, I instantly knew she had, along with a razor-sharp mind, boundless energy and a generous heart."
The Venn diagram of Campos-Pons' two hometowns—Nashville and Matanzas—overlaps in several ways that she's quick to point out. Both cities were shaped by black culture. Both cities have a rich musical history. Both cities played important roles in civil rights movements. And just as Nashville is considered the Athens of the South, Matanzas is often referred to as the Athens of Cuba.
"Themes of democracy, freedom, redemption," she says. "Those are interesting threads that define populations—how culture evolves and how it affects those who produce it."
Campos-Pons left Cuba for Boston in the early 1990s, and left Boston for Nashville in 2017. She is determined to form a bridge between Nashville and Matanzas through art, and she says it's her goal to make them sister cities. She brought seven of Nashville's best artists to Matanzas for this year's Havana Biennial in April and May. Associate Professor of Art Vesna Pavlovic and Associate Professor of the Practice of Art Jana Harper from Vanderbilt, Brandon Donahue from Tennessee State, and Jamaal Sheats and Alicia Henry from Fisk University were among those who accompanied Campos-Pons on the monumental trip.
"One of the extraordinary things about Magda," Harper says, "is that she lifts up everyone around her. It is her ethic to raise the level of discourse around the arts wherever she goes, and she certainly has done that already in her short time in Nashville."
Campos-Pons creates community, weaving relationships through chance encounters and a disarming sense of shared vulnerability.
"I want to say Magda is a force of nature, which is both true and a cliché, but it's more than that," says author Ann Patchett, a longtime Nashville resident and one of the artist's close friends. "It's more like nature exerts its force through Madga, and Magda seems to bend nature into her art through the force of her vision and will.
"Magda makes things happen—culturally, in art," says Patchett. "Her energy and the energy of the world are felt in her work. She's remarkable."
ARTISTIC JOURNEY
Inside the Ingram Studio Arts Center at Vanderbilt, in the corner of the third-floor room, Campos-Pons' studio is like a library of autobiographical artifacts. She gives an enthusiastic tour through her most recent creations, pulling work from flat files and laying them out along the floor in long rows.
There are large swaths of paper affixed with ephemera: stickers from airline baggage checks, a postcard from her first New York solo show in 1991, a dried-up lemon from the Frist Art Museum's annual gala, which was the first formal event she attended in Nashville.
"This is about journey," Campos-Pons says, straightening the long airline stickers so they form tendrils that connect the lines from page to page.
"My life as an artist," she says, "is always about making sense of my life and my experience. Art is an archive of the minutiae of life. Art is alchemy. It's an incredibly mysterious process—life is like that, too."
She brings out another work, a watercolor she calls un pedazo de mar—"a piece of the ocean." It's based on the narrative of immigrants and refugees, bodies arriving on the shore after drowning. Days after our meeting, news of a man and his daughter arriving, drowned, on the shore of the Rio Grande will be all over the news. The photograph is difficult to look at, and Campos-Pons' watercolor seems even more prescient.
"I dreamed of this crisis before it happened," she says, not yet aware of the Rio Grande photograph. "Between Cuba and Miami, bodies float always."
The metaphor of people trying to clench onto the ocean, the futility and the desperation, is fascinating to her. "What kind of despair are people in when they embark on journeys that are so improbable?" she asks.
Her goal, she tells me, is to be a conduit of understanding. "Ignorance keeps us separated," Campos-Pons says. "But teaching is a tool to change destinies. My credo is that we are more close than apart. To not understand that is an incredible failure of knowledge."
Back in her apartment, she picks up a toy camera made from Red Bull energy drink cans. Understandably, I had considered it to be a work of art since it was situated on the credenza beneath her triptych Tree of Life and a portrait of her mother. She holds it up to her face and joyfully proclaims, "I'm going to take your picture!" Then, snap! The lens pops open, and a spring-loaded clown face jumps out.
She lets out a mischievous giggle and says she picked it up in a tourist shop on her last visit to Cuba. I'm suddenly struck with a vision of Campos-Pons as a young girl in Matanzas. This is certainly a distinguished artist who is beloved in the communities she helps create. But in so many ways she remains the joyfully mischievous child "raised to understand beauty."
IMAGES COURTESY OF THE ARTIST AND GALLERY WENDI NORRIS, SAN FRANCISCO; GALLERIA GIAMPAOLO ABBONDIO, MILAN; AND THE MUSEUM OF MODERN ART, NEW YORK CITY
---
Laura Hutson Hunter is the arts editor of the Nashville Scene. Her work has been published in VICE and Art in America.
---