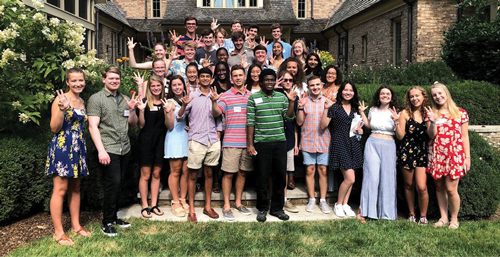 This summer Vanderbilt's welcoming, supportive community celebrated together at 52 Summer Send-Off Parties held in 31 states and three other countries. Hosted by parents and alumni, these special gatherings help new students and their families connect with current students and their parents and with alumni from the same area. University leaders are present to share a message about the Vanderbilt experience.
Sara Clissold Fumagalli, BA'90, remembers attending a Send-Off as an incoming first-year student and later welcoming new students herself as an upperclassman. Today she and her husband, John, are Vanderbilt parents of two students, Jack, Class of 2020, and Lucie, Class of 2022, and have hosted the last two Send-Offs in Miami.
"Our first Send-Off as Vanderbilt parents helped calm the nerves for our entire family," says Fumagalli. "Watching the students socialize helped us feel more at ease, knowing that they'd find some familiar hometown faces those first few days on campus.
"Talking with other parents about dorm preparations, the admissions process and roommates helped us feel more comfortable during a stressful time," she adds.
The Fumagalli family graciously offered to host the Miami Send-Off in their home in 2018 and 2019, a gesture that has made the event more personal and welcoming than the previous hotel location.
"It has been a wonderful experience," Fumagalli says. "The remarks [by Vice Chancellor for Investments Anders Hall] about all the strides Vanderbilt is making are inspiring, and it is a joy to meet the incoming students, bright-eyed and excited to start the next chapter of their lives!"