Simon Mayfield "Dick" Dickerson, BA'63: "Connected to Everybody"
by
Jim Patterson
Nov. 7, 2019, 3:11 PM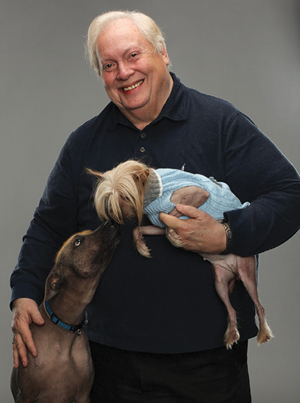 Simon Mayfield "Dick" Dickerson of Franklin, Tennessee, died Sept. 20. He was 79.
A graduate of East Nashville High School and George Peabody College for Teachers (now Vanderbilt Peabody College for education and human development), he was president of the student body and "Mr. Peabody." A career educator, he also was the founder and president of various dog clubs in Tennessee, starting during his teenage years. He continued to serve on the board of directors of Tri-Star Kennel Club of Williamson County until his passing.
Through his years in the dog world, his kennel produced many champions, so he was the perfect person for Vanderbilt Magazine to turn to when we needed a hairless dog for the photo shoot of our Spring 2010 cover. What follows is an excerpt from former editor GayNelle Doll's "From the Editor" column:
If you ever need to photograph a hairless dog, Dick Dickerson is a good man to know. He will keep you entertained and even bring along a spare hairless dog.
On a Friday afternoon in late February, Mr. Dickerson arrived in an old pickup truck with a Chinese crested as well as a larger dog that he said was a Xoloitzcuintli—a Mexican hairless. Both dogs, he said, were national champions.
Word spread throughout the Creative Services division, where we were shooting the photo, that two hairless dogs wearing sweaters were on the premises. While a parade of designers and photographers came through, the unflappable Mr. Dickerson talked.
I have never wished more fervently that I had brought along a tape recorder.
I sat on the floor cuddling April, our cover dog, who was nervous and flatulent from all the attention. Dick told me his family began raising Chihuahuas in the 1800s and supplied them to Haile Selassie for 40 years. Dick met the Ethiopian emperor twice.
As a boy, Dick became interested in Chinese crested dogs, and one day as a 14-year-old he received a phone call from striptease artist Gypsy Rose Lee, who founded one of the first Chinese crested kennels. Dick got to know not only Gypsy Rose Lee, but also some of her coterie of exotic dancers. "A naked dog for a naked woman," she told him. Dick's father always enjoyed telling about his son's acquaintance at his club.
Dick lives in Springfield, Tennessee, but his backyard is in Kentucky—a good thing, because he has enough stories to keep two states entertained. He hosts a radio show and writes a newspaper column.
He knows descendants of the Jesse James gang and descendants of Aaron Burr, who fled to Kentucky after killing Alexander Hamilton in a duel. He raises exotic chickens and sends eggs to Martha Stewart. He wrote education speeches for President Jimmy Carter. And he is a second cousin of Al Gore, of whom he speaks with great admiration.
"This guy is like Forrest Gump," Associate Editor Phillip Tucker whispered to me at one point during our photo shoot. "He seems to be connected to everybody."
—STAFF REPORTS