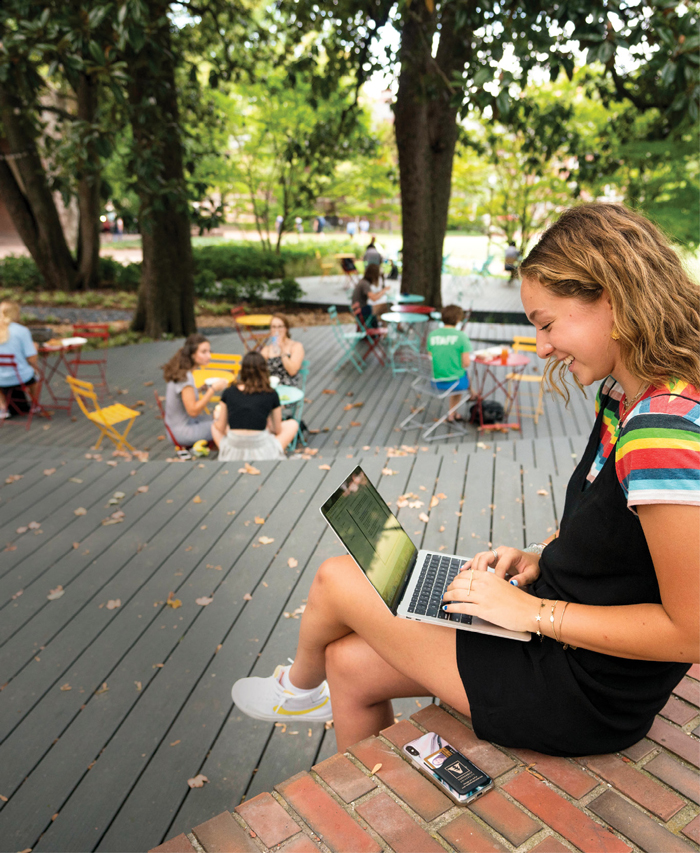 The newly redesigned Fleming Yard, located between Alumni Lawn and Sarratt Student Center, greeted students, faculty and staff as they returned to campus in August for the start of the academic year. The reimagined space is the result of a collaboration among staff in the Division of Administration; Professor of the Practice of Civil and Environmental Engineering Lori Troxel, MS'90, PhD'94; and students in Troxel's class on sustainable design, who made it the focus of their DIVE (Design as an Immersive Vanderbilt Experience) project.
Thanks to their efforts, Fleming Yard—named for former Vanderbilt Board of Trust Chairman Samuel Milton Fleming, BA'28—now features recycled plastic decking and furniture, accessible pathways and routes, a hydration station for filling water tumblers, LED lighting, audio speakers for future outdoor events, and a stormwater capture and filtration system that supplies water to a fountain sculpture.
Fleming Yard originally was created through a gift from Fleming's daughter, Trustee Emerita Joanne F. Hayes, BA'68, who also generously supported the recent renovation.
---