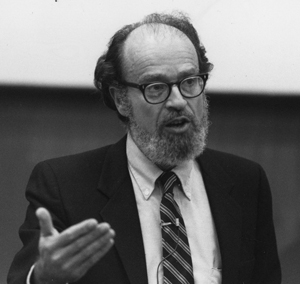 Martin Katahn, a retired psychology professor and best-selling author who wrote The Rotation Diet and other books promoting healthy weight loss and lifestyle, died Sept. 17. He was 90.
Katahn, who was known to his family and friends as Dick, was born in Utica, New York, in 1928. He began performing with the violin at age 12 and enrolled at the Juilliard School of Music after high school. While at Juilliard he organized his own string quartet, which became known as the Degen String Quartet with a sponsorship from patron Mabel Degen of Taos, New Mexico.
In 1952, Katahn married Enid Miller, a pianist, who later became a Blair School of Music faculty member. They moved to Hartford, Connecticut, to teach at the Hartt College of Music, now part of Hartford University. Katahn's quartet continued touring and playing concerts, but he realized that teaching young violinists was not the career for him. After briefly moving back to Utica, Katahn decided to pursue psychology. He enrolled at Syracuse University, where he earned both a master of arts and a doctorate in psychology. He joined the Vanderbilt Department of Psychology in 1962 as an assistant professor.
Once in Nashville, in addition to his "day job" as a professor, Katahn had a second career as a session musician. Many years earlier he had acquired a valuable instrument called the Muntz Stradivarius and later traded it for an Amati violin, which he much preferred and used in his session work, accompanying such artists as Johnny Cash, Patsy Cline, Bob Dylan, Brenda Lee and Elvis Presley.
One of Katahn's early areas of research was anxiety, testing different approaches to management of problems such as fear of heights, crowds and public speaking. He was named director of the university's Center for Advanced Study and Continuing Education in Mental Health in 1969. The next year he was promoted to full professor and became department chair.
His first book on weight management, The Two Hundred Calorie Solution: How to Burn an Extra Two Hundred Calories and Stop Dieting, was published in 1982. Four years later The Rotation Diet, which offered daily calorie-intake schedules for a period of three weeks, followed by a "maintenance" week, became a New York Times best-seller. The book sold more than a million copies and was translated into several languages.
Katahn authored and co-authored numerous other publications on dieting and weight loss, including The T-Factor Diet and The Cancer Prevention Good Health Diet: A Complete Program for a Longer, Healthier Life. Katahn's professional memberships included the American Psychological Association, the Tennessee Psychological Association, and the Association for Behavioral and Cognitive Therapies.
In 1991 he became professor of psychology, emeritus. At the Blair School, he and his wife, Enid, established the Enid Miller Katahn Piano Scholarship. They also donated the treasured Amati violin that he played for performances, session work and "Nashville Sound" recordings.
Katahn is survived by his beloved wife, Enid, to whom he was married for 67 years; and their two children, David Katahn and Reyna Lorele.
—Ann Marie Deer Owens