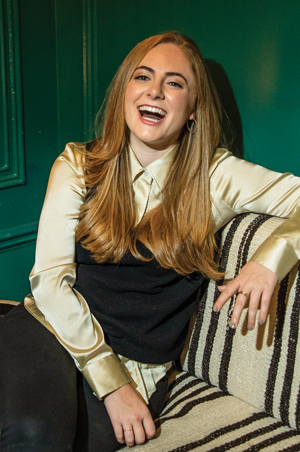 Like many people her age, Lauren Mandel developed her funny bone to the antics of comedians like Kristen Wiig, Bill Hader and Maya Rudolph on Saturday Night Live.
That Mandel, an aspiring entertainer since childhood, would one day work behind the scenes at that iconic sketch show—first as a page and then as the writers' assistant—"seemed so far away," she recalls.
But Mandel has always gone her own way. She created her own major at Vanderbilt, naming it cinematic production and communications. Her ultimate goal: to produce her own content. It's all about the art of the possible for Mandel.
"For me it's about grit, and surpassing expectations and not letting anyone tell you something isn't possible," she says. "SNL was my dream job. Someone has to have a job there, so I thought, 'Why not me?'"
She got in the door by participating in the premier NBCUniversal Page Program in New York, completing three rotations, including one with SNL. Later hired as the writers' assistant, she supported the show's writers and cast members.
Mandel left the show this year to head television development for producer Marci Klein, a four-time Emmy winner known for her work on SNL and 30 Rock. "We've got an incredible slate of strong comedies, both scripted and unscripted, that I'm thrilled to be developing with Marci," she says.
Mandel finds inspiration in a steady diet of live shows, movies, television programs, books and podcasts. Growing up in Chicago, and then New Jersey, she enjoyed musical theater and auditioned for Broadway shows. "I'd get really far, but never ended up booking the role," she says. "It reinforced the idea of, 'Why am I letting other people decide if I'm capable?' By creating my own material, I can be the one who decides."
Vanderbilt has played no small part in Mandel's progression. During her senior year she co-created, along with Julia Seales, BA'15, and Rachel Brittain, BS'15, a 12-minute short, The Delivery Girl, set in a futuristic world in which advertisers monitor all communication. In 2016 the film screened at the Los Angeles Women's International Film Festival and the New York Big Apple Film Festival.
Through the Vandy on Madison Avenue program, she was able to forge connections with alumni and other professionals in the arts, media, communications and entertainment industries. Mandel returned the favor in 2017, giving the keynote speech to Vanderbilt's Media Immersion, a program that introduces first-year students to student media at the university.
"I go to events like these so I can meet students who might have a passion like mine, but lack the industry contacts, similar to how I felt in that position," Mandel says.
"Right now I'm following the fun, and I hope to continue doing that with really great people," she says.
—ANDREW FAUGHT