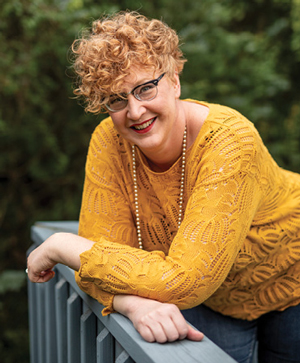 A communications leader and champion for STEM research at Vanderbilt, Heidi Nieland Hall died Sept. 25 in Nashville from metastatic colorectal cancer. She was 49.
Hall, an honored reporter and editor for decades, left The Tennessean to join the Vanderbilt School of Engineering communications team in August 2014. In 2017 she joined the Vanderbilt Division of Communications, continuing to support researchers in engineering and the natural sciences, playing a leading role in explaining and publicizing cutting-edge engineering and scientific research.
She finished her career heralding Vanderbilt engineers' and scientists' work to treat and cure cancer. (Read the last piece she wrote for the university on page 18.)
After an upbringing in Sikeston, Missouri, she rose through the newspaper industry.
Hall began her career with the weekly Democrat Advertiser in Sikeston, later spending years at other newspapers in Missouri and across Florida before she came to Nashville and The Tennessean, where she was team leader for religion and education.
There, she was a prominent part of a team of reporters and editors who covered the Nashville flood in 2010. That team was named a finalist for the Pulitzer Prize for breaking news reporting.
Her leadership on the education beat led to years of accolades from the Tennessee Press Association. She also won top awards for her writing on health care and the Tennessee Walking Horse industry.
In person, she was a force of nature, with a booming laugh that bounced off newsroom walls and a tenacity that pushed co-workers to dig deeper for every story, The Tennessean reported. She prided herself on accuracy and diverse representation of voices in the pages of local newspapers and demonstrated that in her personal life as well.
Steve Ertel, the university's vice chancellor for communications, said Hall was "a beloved member of the Vanderbilt family.
"Her enthusiasm, sharp wit and outstanding sense of humor made a deep and lasting impact on Vanderbilt, Nashville—and, frankly, anyone who met her," Ertel said in a statement. "As a passionate advocate for academic research and a gifted storyteller, Heidi was dedicated to unearthing the best science and engineering work being conducted by Vanderbilt faculty and students and shining a bright light on the ways that work could benefit people and society."
The university will launch the Heidi Hall Internship for Science Communications in 2020.
She is survived by her husband, Jeffrey Joseph, and many friends who will never forget her.