As a boy in Westport, Connecticut, Richard Webb, BA'85, was haunted by the ghosts of artists. His affluent waterfront town, about 50 miles from New York City, had once been a rural haven for Jazz Age creatives; in fact, Webb grew up near a summer cottage where F. Scott and Zelda Fitzgerald honeymooned for five glorious, boozy months in 1920, before their lives took darker turns.
When, as a teenager, Webb read F. Scott Fitzgerald's second novel, The Beautiful and Damned, those ghosts came to life for him. The riotous excess of well-heeled New Yorkers in the 1920s seemed to leap from Fitzgerald's pages onto the lawns and beaches of Westport. "I was like, my God! These are the roads I ride my bike on!" Webb says, his voice still filled with boyish exuberance.
It seems Webb is wired to be possessed by the past. He studied history at Vanderbilt before teaching the subject for more than two decades. All the while he remained a Fitzgerald fanatic. And then, in 1996, he read a New Yorker article that focused his fascination to a single idea: The writer, Barbara Probst Solomon, whose family had owned a Westport estate, argued that The Great Gatsby might have been inspired not only by Fitzgerald's time on Long Island, as scholars believe, but also by his summer in Westport.
Webb enthusiastically agreed and wanted to set the record straight. By learning all he could about the Fitzgeralds' Westport honeymoon, he hoped to put his hometown on the literary world map. That dream became Webb's "green light," like the beacon Gatsby longed to reach from across the dark water.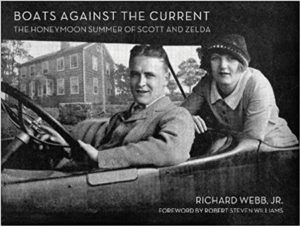 Webb compiled decades of research into his book, Boats Against the Current: The Honeymoon Summer of Scott and Zelda, an assemblage of one man's love of home, history and learning itself. It's full of maps, yellowed photos, and Webb's exhaustive case for Westport's influence on Fitzgerald. And it's a companion piece to Gatsby in Connecticut: The Untold Story, a documentary Webb is working on with producer Robert Steven Williams, due out in 2020—a century after that honeymoon summer.
Now retired, Webb admits that for a novice author and filmmaker, birthing a book and documentary often felt impossible. "I was beaten back the whole way," he laughs, "but I got to the green light!" Webb "beat on," to quote that famous last line of Gatsby, because he was determined to give his hometown the gift of its own history.
"We are all borne back," he says. "The past is always with us. It makes us what we are."
—Kim Green