Media Inquiries
Latest Stories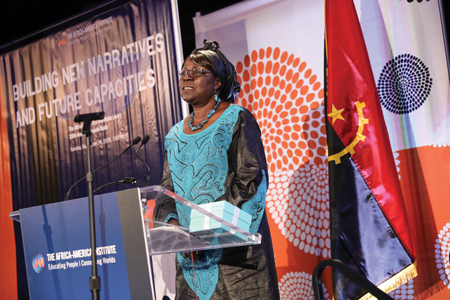 It was with a scholarship from the Africa–America Institute that Ann Therese Ndong-Jatta enrolled at Vanderbilt to study educational leadership. Honored in September with the institute's Distinguished Alumna Award, she now invests those skills in her native Africa.
In 2016 the United Nations Educational, Scientific and Cultural Organization named Ndong-Jatta director of the multisectoral office for East Africa in Nairobi, Kenya, where she also is a UNESCO representative to 13 African nations.
She promotes the importance of education on a continent where challenges, many the result of poverty, are formidable. While 20 percent of children ages 6 to 11 do not attend school, the total skyrockets among those 15 to 17. Nearly 60 percent of that age group do not attend school. The problem is especially pronounced in sub-Saharan Africa.
"Challenges remain, given the high levels of poverty and a weak economic base of governments dependent on aid," says Ndong-Jatta, who oversees a staff of 50 working with nongovernmental organizations to advance education.
Ndong-Jatta helped lead the Basic Education Africa Program to expand educational opportunities to underserved populations. Initially, the plan called on African nations to guarantee nine uninterrupted years of education for their children.
"Through subsequent consultations and negotiations, it was possible to raise basic education to 12 years," she says. "The campaign to increase access to quality education continues to inform investment patterns in education."
Before joining UNESCO in 2004, Ndong-Jatta was minister of education in Gambia, a country in West Africa that, on her watch, opened its first public university. At UNESCO, Ndong-Jatta first was named a director of basic education, responsible for developing policy and research, convening experts on issues such as literacy and early childhood development.
It was at Peabody College that Ndong-Jatta developed the tools of analysis and evaluation that she's used in helping to develop policy.
"I remember the exposure I got to world views taught in philosophy of education classes," she says. "I learned the skills of policy analysis and defense of one's ideas through research and evidence there."
—Andrew Faught