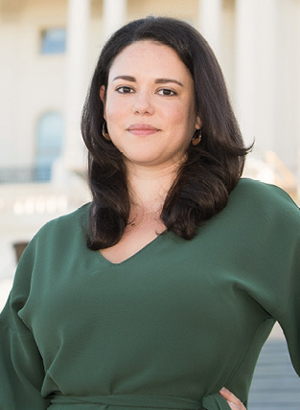 Congress passed the 19th Amendment to the U.S. Constitution in June 1919, and the amendment became law Aug. 26, 1920, giving American women the right to vote after a decades-long fight.
This year, the centennial of women gaining the right to vote, a record number of women are serving in the U.S. Congress, many elected in 2018.
When Amanda Iovino considers the progress made during the past 100 years, she says more progress is needed by having a greater number of women in office, and in leadership positions, who are right of center on the political spectrum.
Iovino is a senior client strategist with WPA Intelligence, a polling and analytics firm in Washington, D.C. Until recently, she was director of research and analytics at Winning for Women, a D.C.-based nonprofit formed in 2017 that recruits conservative women to run for federal office. Before that, she was deputy director of the Women's Initiative, an effort undertaken by America Rising to research the attitudes and perspectives of independent women voters to help political candidates understand and reach them.
One of Iovino's responsibilities at Winning for Women was growing the organization's nationwide membership. By the time she left, that number had reached a high-water mark of nearly 600,000.
"A lot of people are pushing for some positive change, and I like being one of them," Iovino says.
"I think it brings new issues to the table, or brings issues from the back burner to the front," she says of women in elected office, citing as one example efforts by Republican women senators, joining Democratic women, to raise awareness of sexual assaults in the military. "The women tend to work together more. I really think that's what we need."
For conservative women to make more progress, they need to be encouraged to run for office and they need support, Iovino says—especially when they run in Republican primaries that draw many candidates.
The relationships Iovino formed at Vanderbilt help her maintain her determination.
"The friends that I made at Vanderbilt, they continue to be my support system," she says. "I talk to them almost every day, and we encourage each other, we build each other up. We're there for the ups and downs of each other's careers."
—Tom Kertscher