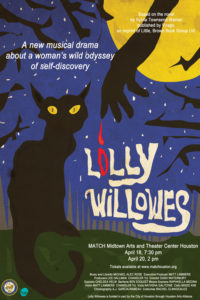 Michael Alec Rose, associate professor of composition, had the premiere of his musical drama, Lolly Willowes, based on the novel by Sylvia Townsend Warner, in April at the MATCH–Midtown Arts and Theater Center Houston. In July he was interviewed about the work and his life as a composer by Nashville Public Radio. His Seventh String Quartet–Maine Title: Sun, Sea, Land was performed this summer at Maine's Seal Bay Festival.
David Rodgers, BMus'17, released his second album, Doorways, Sept. 1. Currently an active member of Keb' Mo's band as keyboardist and musical director, he has performed at the Montreux Jazz Festival, the North Sea Jazz Festival, and the Playboy Jazz Festival, among many others.
Kaila Geisinger, a junior harp performance major at the Blair School of Music, took second prize representing the Southeastern Region in the Advanced Division at the American Harp Society National Competition, June 16–19, in Winston-Salem, North Carolina.
Christopher Greenslate, EdD'14, of Los Angeles took home the grand jury prize at the Madrid International Film Festival for his film Saviors. The film, shot in a single continuous take, went on to be one of two U.S. films nominated at Raindance Film Festival for best feature. It was programmed at the St. Louis International Film Festival, where Greenslate was nominated for the Emerging Director award, and it played in April at the Kansas City FilmFest International and the Richmond International Film and Music Festival.