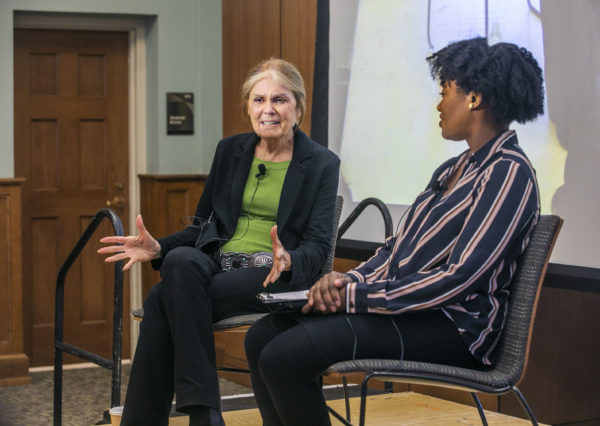 Gloria Steinem is hopeful about the future of feminism and its critical role in shaping society and policy around the world, the award-winning writer, feminist activist and co-founder of Ms. magazine told a full house of Vanderbilt students, faculty, staff and postdoctoral fellows in the Community Room of the Central Library on Nov. 1. Steinem's in-depth conversation, moderated by Assistant Professor of Spanish Michelle Murray, was hosted by the Margaret Cuninggim Women's Center in partnership with the Chancellor's Lecture Series.
Interim Chancellor and Provost Susan R. Wente introduced Steinem, noting the many ways the work of the iconic feminist fits into the fall 2019 theme of the Chancellor's Lecture Series, "Culture of Respect; Culture of Caring."
"Gloria Steinem has certainly brought the values of culture and respect to the forefront of modern American society," Wente said. "She has expanded the horizons for women around the world, encouraging us to fight for our rights and to support one another. I know firsthand how important it is to have a broad range of voices and perspectives at the table when decisions are being made, and we're continuing to do that on our own campus."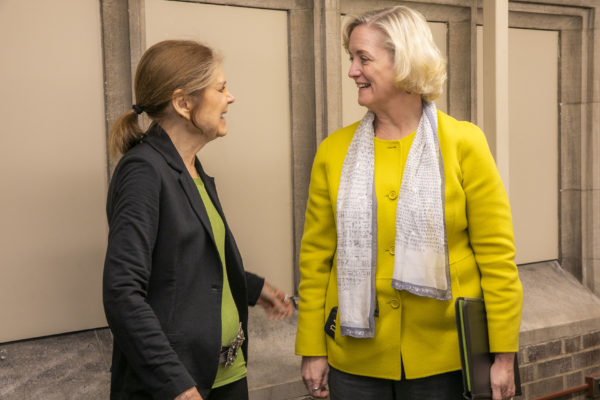 During her talk, Steinem emphasized the importance of embracing intersectional approaches to feminism and ensuring that all stories and perspectives are supported by leaders within modern feminist movements. She explained that, particularly early in her fame as a visible face of feminism, she appeared as often as possible with other leaders who represented different backgrounds and perspectives within the movement. She found it very important to travel with speaking partners, such as Dorothy Pitman Hughes and Florence Kennedy.
"We discovered how important it was to go always together," Steinem said. "We got audiences that neither one of us would have earned on our own."
She also spoke about the importance of modern feminist movements, such as the mobilization around the Women's March, embracing diverse leadership. When organizing, the people most affected by an issue need to be included from the start. "If one group of people starts an organization and says, 'We'll add other people later,' it doesn't work; it always belongs to that first group," Steinem said.
Murray asked Steinem about the ways in which social movements that have found success in youth organizing, such as Black Lives Matter, gun control reform efforts, climate change activism and others, can promote intergenerational collaboration to enrich activism.
Steinem noted the importance of always inviting people and bringing them to meetings and gatherings. "At a practical level, if I'm going to a meeting where people younger than me don't have access, I will invite them," Steinem said. "We all need each other. As an older person, I can supply hope because I remember when it was worse. Young people can supply anger because things should be better."
Murray asked Steinem about the differences between the feminist movement in the 1970s and the parallels to today's activism. Steinem noted that society has changed profoundly in the past 40 years, but that many people still feel threatened by that progress and that many laws and policies are still in place to control women and their bodies.
"The first step in every hierarchy is controlling women's bodies," Steinem said. "Those who are dependent on the old racial and gender hierarchies are very angry now. Our definition of democracy has to realize that there is no democracy unless we all can control our own physical selves—our own bodies and our own voices."
After the moderated discussion with Murray, audience members engaged with Steinem during an open question-and-answer session. Topics ranged from how to fight against apathy and indifference in current social movements to perspectives on the Women's March movement.
Several audience members noted how Steinem's books and talks had shaped their own experiences as women and feminists. Maria Magdalene Campos-Pons, Cornelius Vanderbilt Professor of Fine Arts, emphasized the impact of feminists like Steinem as she was growing up in Cuba in the 1970s and '80s.
"We were discussing feminism because of you," Campos-Pons told Steinem. "You were an inspiration in America, in the Caribbean and in the world."
Steinem thanked Campos-Pons and told her such comments were the true reward of her work.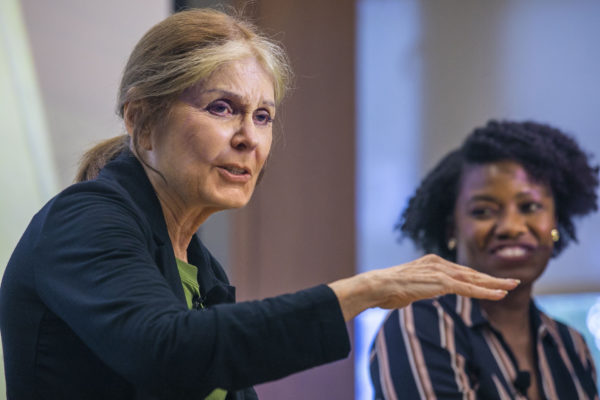 Steinem was in Nashville to discuss her new book, The Truth Will Set You Free, But First It Will Piss You Off!, released on Oct. 29. Later in the day, she spoke at War Memorial Auditorium in downtown Nashville.
The Nov. 1 talk at Vanderbilt took place on the 41st anniversary of the opening of the Margaret Cuninggim Women's Center. The center, along with the Chancellor's Lecture Series, brought Steinem to campus with the support of the Jean and Alexander Heard Libraries, the Robert Penn Warren Center for the Humanities, the Project Safe Center for Sexual Misconduct Prevention and Response, the Women's and Gender Studies Program and the American Studies Program.