Media Inquiries
Latest Stories
The Vaughn Home, a lovingly restored Victorian house in the heart of Vanderbilt University's campus, is a venue perfectly suited for telling spooky stories.
Home to The Robert Penn Warren Center for the Humanities for the past 30 years, it is a beehive of scholarship by day. But by night, its sprawling porches, creaking wood-plank floors, winding staircases and mysterious nooks and crannies provide an apt setting for a celebration of ghost stories—even a few that feature the home's former residents.
From 1884 to 1912, Mathematics Professor William J. Vaughn and his wife Abbie raised their children at the then-named Residence Five.
The beloved professor is said to have died there at age 79 in the winter of 1912, with Chancellor James H. Kirkland by his side.
Legend has it that ghosts of the Vaughn family visit on occasion, reportedly turning lights off and on and moving objects.
One current staff member recalls a chilly hand running across his back while working late at night.
Historic portraits of the Vaughn family are displayed on the walls of the home — just one reason to visit. The Robert Penn Warren Center's calendar is packed with seminars, porch parties and other gatherings that are open to students, faculty and staff looking to connect, collaborate and share ideas.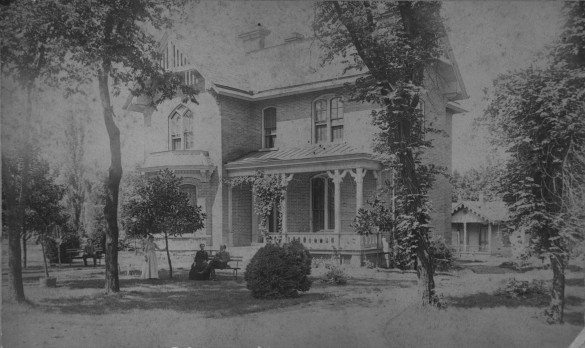 On Wednesday, Oct. 30, from 5 to 7 p.m., all are invited to the Vaughn Home for a Spooktacular Story Slam, an evening of ghost stories and festive treats.
Come just for the spooky fun or submit an original scary story (250 words or less) by Oct. 28 at midnight to be included in the story slam competition.
The Robert Penn Warren Center for the Humanities is directed by Holly Tucker, Mellon Foundation Professor in the Humanities and professor in French.
The Center promotes interdisciplinary research and study in the humanities and social sciences.
It is designed to intensify and increase interdisciplinary discussion of academic, social and cultural issues.
Contact: terry.tripp@vanderbilt.edu