Vanderbilt's 2019 recognition of Hispanic Heritage Month, which took place Sept. 15 to Oct. 15, celebrated and honored the diverse array of Hispanic and Latinx histories, cultures, narratives and contributions to the university and society. The university's Hispanic Heritage Month included a wide range of cultural events, community-wide celebrations, educational lectures, film screenings, visiting speakers and more.
Organizers of this year's Hispanic Heritage Month chose the theme "Somos VU," which translates to "We are Vanderbilt," to represent the importance of Latinx visibility, presence, influence and representation at the university while also emphasizing the values of connection, inclusion and celebration.
The Student Center for Social Justice and Identity collaborated with several offices, departments and student organizations, including the Latino and Latina Studies Program, the Center for Latin American Studies, the Association of Latin American Students, and the Tennessee Immigrant and Refugee Rights Coalition, to organize programming and events in recognition of the month.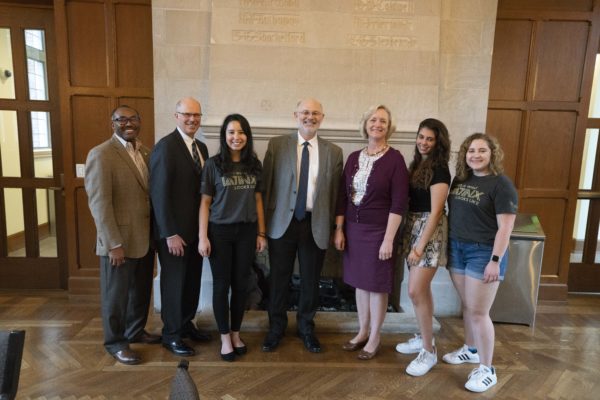 The keynote event of the month was the Oct. 11 Hispanic Heritage Month lecture by Bernardo Ferdman, a renowned leadership and organizational development consultant. Ferdman's expertise focuses on diversity, inclusive leadership, cross-cultural management and Latinos and Latinas in the workplace. The program, held in Alumni Hall, included remarks from Interim Chancellor and Provost Susan R. Wente, who discussed the importance of Hispanic Heritage Month and advancing diversity and inclusion in every area of the university.
The month began with a kickoff hosted by the SCSJI in the Multicultural Lounge at Sarratt Student Center. Students, faculty and staff gathered for food, games and remarks from community members about the importance of recognizing Hispanic Heritage Month at Vanderbilt.
Later in the month, SCSJI partnered with the Tennessee Immigrant and Refugee Rights Coalition to offer an immigration and advocacy training workshop. Attendees learned about issues impacting immigrant communities in Nashville, as well as ways they could further engage.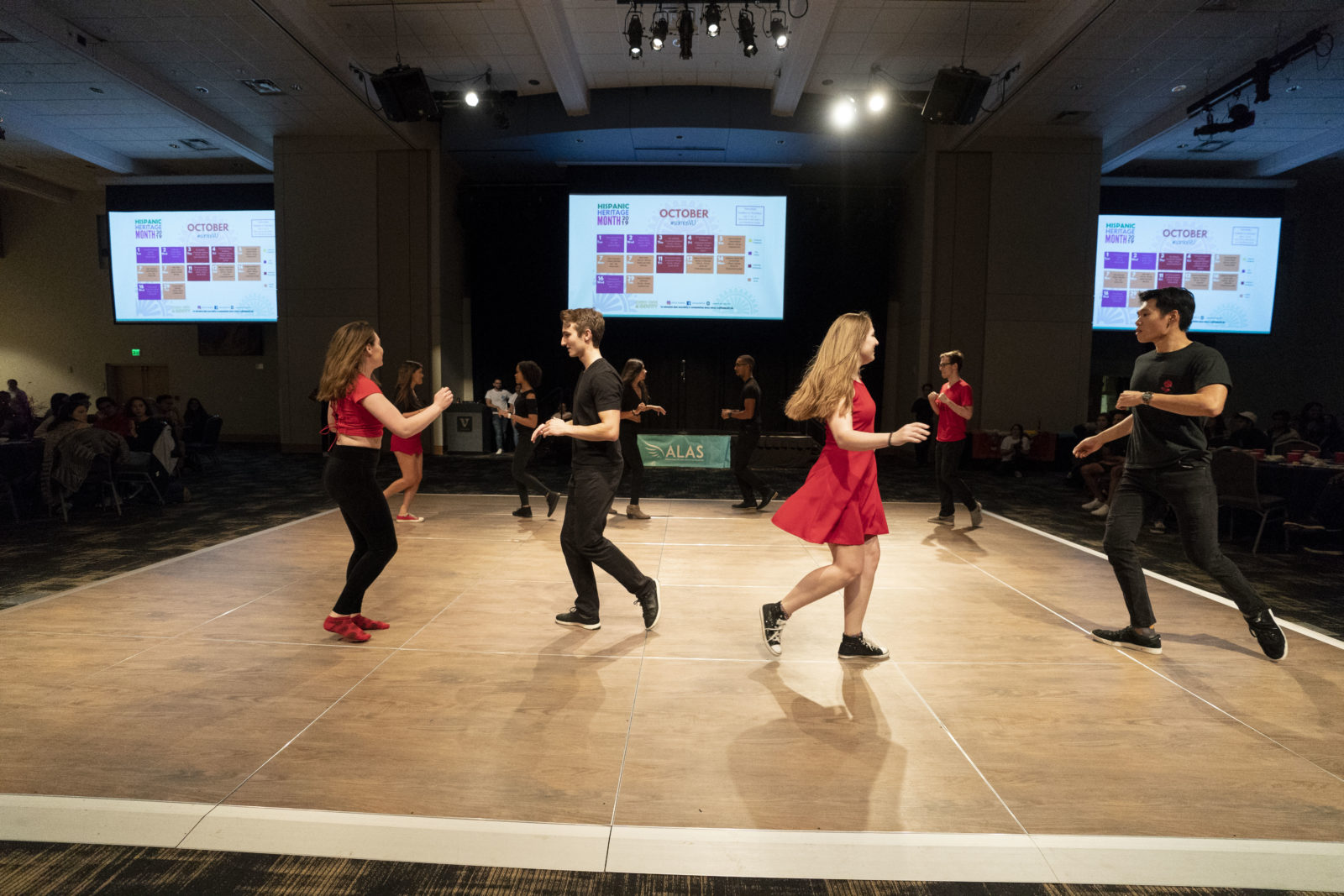 On Oct. 7, more than 450 students, faculty and staff attended Sabor Latino, a signature event organized each year by the Association of Latin American Students, which is celebrating its 30th anniversary this year as an organization. Held in the Student Life Center ballroom, the event honored Hispanic, Latinx and Latin American culture by offering attendees a variety of foods, music, dancing, educational pieces and student presentations.
On Oct. 14, Vanderbilt community members recognized Indigenous Peoples' Day and Día de la Raza during an event at Sarratt Student Center. The organizations Vanderbilt American Indian Science and Engineering Society and Native Americans in Tennessee Interacting at Vanderbilt also joined together to hold an Indigenous Peoples' Day celebration and reflection program at Buttrick Hall, which included remarks from activist, historian, attorney and journalist Albert Bender.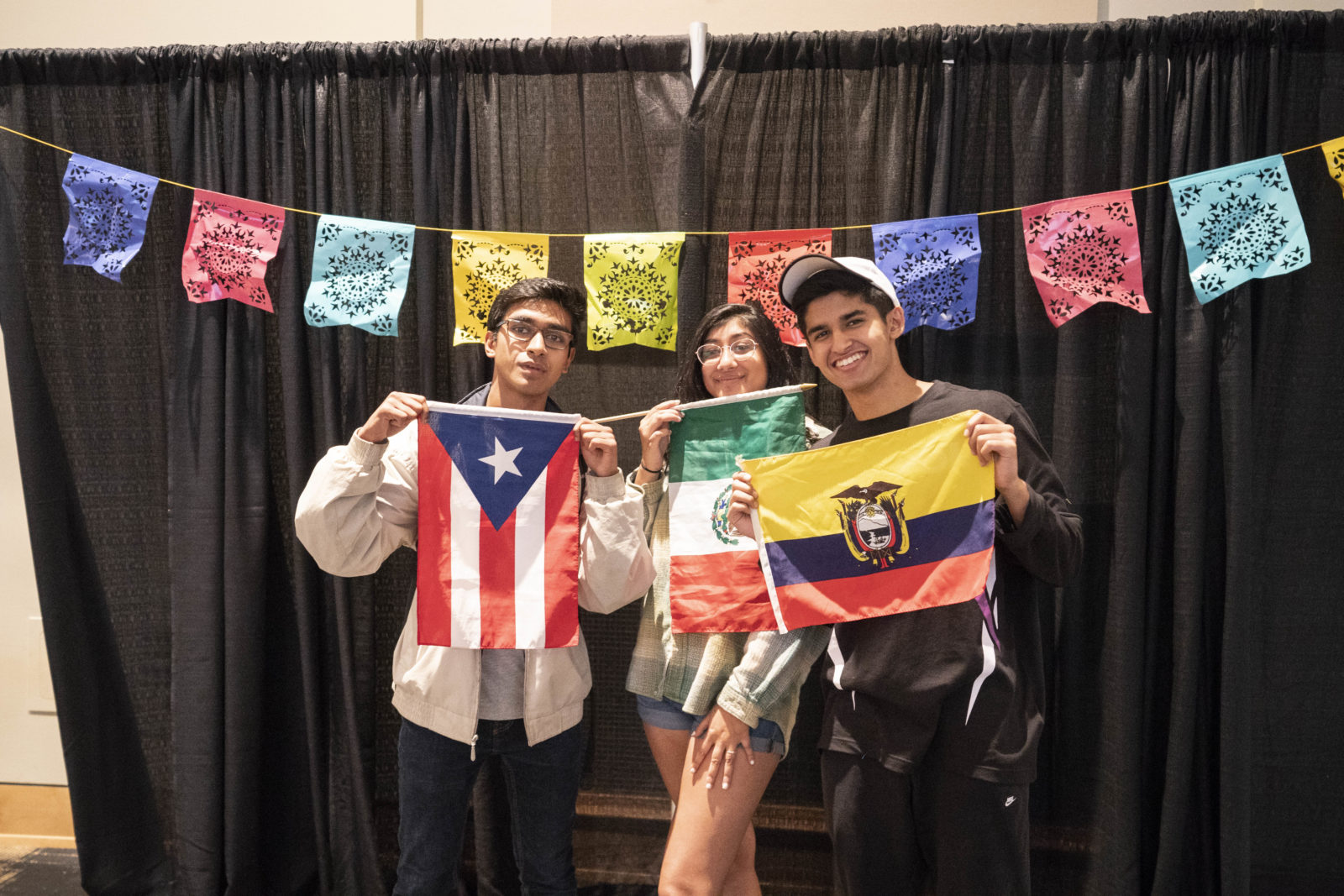 Hispanic Heritage Month was initially established in 1968 as Hispanic Heritage Week. It was later expanded in 1988 to a full month, beginning with the Independence Day celebrations of Costa Rica, El Salvador, Guatemala, Honduras and Nicaragua on Sept. 15 through Oct. 15, which would include Día de la Raza and Indigenous Peoples' Day, held annually on the second Monday of October.
For more information about Hispanic Heritage Month at Vanderbilt, visit the SCSJI Hispanic Heritage Month webpage.
Community members also are invited to join ALAS for an upcoming Día de Los Muertos event on Tuesday, Oct. 29, at the Commons Multipurpose Room.