Media Inquiries
Latest Stories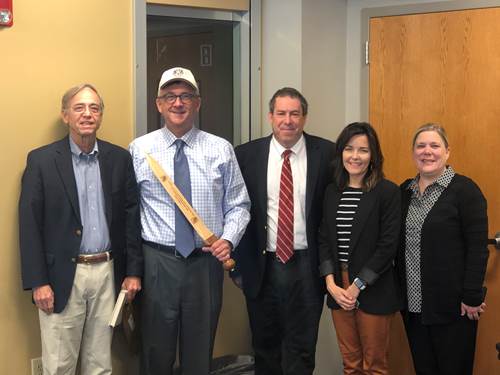 The Legion Fund honored Vanderbilt Vice Chancellor for Information Technology John Lutz with a special presentation Oct. 14 for his mentoring of the retiring deputy commanding officer of the 5th Group Special Forces (Airborne), the Green Beret unit at Fort Campbell, Kentucky.
Legion Fund representatives Willy Stern, the organization's founder, Judge George Paine, Cheryl Carter and Ruth Trotter presented Lutz with a replica Roman gladius sword.
The Legion Fund is a charitable organization made up of prominent Nashvillians that provides support for Green Berets and their families at the U.S. Army base at Fort Campbell. Support includes immediate assistance for families, assistance to the wounded, assistance to families of fallen heroes (Gold Star families), educational scholarships for soldiers and dependents, medical therapies, team building and mentoring.
"Vice Chancellor Lutz generously gave of his valuable time to assist a transitioning officer who has given so much of his time and effort protecting us all," Stern said. "This civilian support of these brave soldiers reinforces to them how appreciated they are. Vanderbilt has also been a leader in supporting this Green Beret unit, including training its combat medics at the Vanderbilt University Medical Center."