Media Inquiries
Latest Stories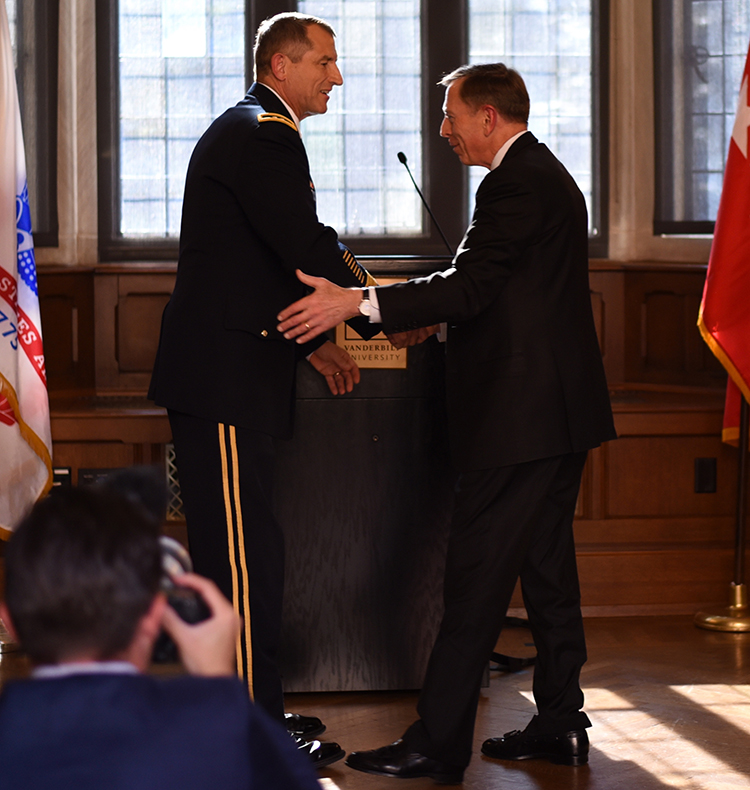 Maj. Gen. William "Bill" Busby Hickman, BS'83, MBA'92, was recognized for his 36 years of service in the U.S. Army at a ceremony held Oct. 17 in Alumni Hall and attended by former CIA Director and Ret. Gen. David Petraeus. Retired Lt. Gen. Gary Cheek, director of Vanderbilt's Bass Military Scholars Program, and Maj. Gen. Eugene LeBoeuf, professor of civil and environmental engineering, also attended the ceremony, along with other distinguished members of the military community, family and friends.
"My wife, Mayme, MSN'94, and I were honored to return to Vanderbilt's campus to conduct my retirement ceremony from the U.S. Army," Hickman said. "We have special memories of our time here and look forward to making many more Vanderbilt memories."
Throughout his military career, Hickman served in more than 30 countries, including leading troops through Mosul, Iraq. In 2007 he played a key strategic role alongside Petraeus as part of the Iraq surge. Most recently, Hickman directed planning and policy at NATO's Allied Command Transformation in Norfolk, Virginia.
"Candidly, he is extraordinary," Petraeus said. "There is nothing about Bill that is about self-aggrandizement. He goes about accomplishing the mission at hand, always putting the team first and giving credit to others. He has this extraordinary, quiet confidence and remains incredibly cool under enormous pressure."
Raised in Columbia, Tennessee, Hickman also earned a master's degree from the Naval War College in addition to his Vanderbilt degrees.