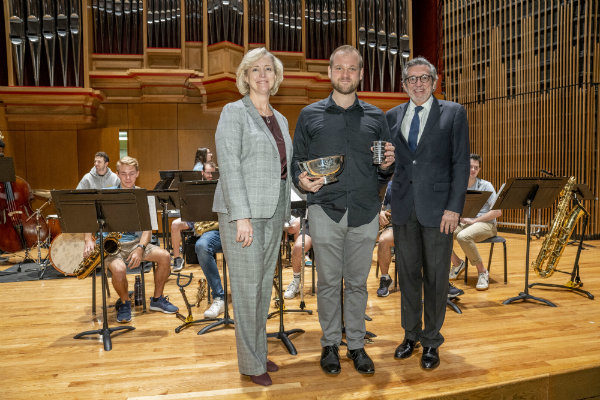 Ryan Middagh's visionary leadership of the Blair School of Music's jazz program along with his inspiring teaching and mentoring skills are among several reasons Interim Chancellor and Provost Susan R. Wente awarded him the 2019 Chancellor's Cup Oct. 15.
Middagh, senior lecturer in jazz studies, was completely surprised when Wente interrupted a rehearsal of the Blair Big Band that he directs for the award ceremony.
Wente noted in her remarks that Middagh has elevated jazz studies at Vanderbilt to a completely new level since being named director in 2014.
"You are described as a 'triple threat': an internationally recognized performer, an outstanding leader and an extraordinary mentor," Wente said when presenting the award to Middagh. "We are grateful that you're here on the Vanderbilt faculty and leading this amazing big band."
The Chancellor's Cup, established by the Nashville chapter of the Vanderbilt Alumni Association in 1963, is presented annually to a professor for "the greatest contribution outside the classroom to undergraduate student-faculty relationships in the recent past."
"Ryan Middagh is as an accomplished jazz saxophonist who has toured around the world, but he's also revolutionized the jazz program since his arrival at Vanderbilt five years ago," Wente said. "The Blair Big Band has been invited to very special opportunities to perform, extending the faculty-student interactions and partnerships beyond the classroom."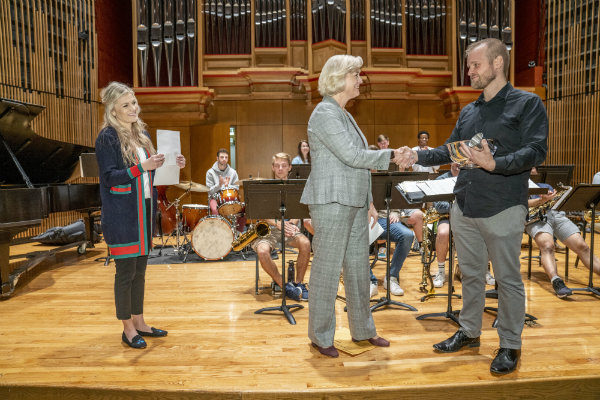 Among the accolades for Middagh, DownBeat magazine recently named the Blair Big Band the best undergraduate large jazz ensemble in the world. The Blair Big Band completed its first studio album in 2015.
"Ryan Middagh has set hugely ambitious goals and more than achieved them," said Mark Wait, the Martha Rivers Ingram Dean of the Blair School and professor of piano, who was among those commenting on the nomination. "He has recruited Grammy-award-winning artists to teach in the program, and the Blair Big Band recently completed a tour of South America this summer."
Middagh, an Iowa native, first came to Nashville as a student teacher at Martin Luther King Jr. Magnet High School. He completed his master's degree at Middle Tennessee State University and a doctor of arts in jazz studies, with a secondary emphasis in composition, at the University of Northern Colorado.
The selection for the Chancellor's Cup is made by the chancellor, based on recommendations from Mortar Board, Omicron Delta Kappa, deans of the undergraduate schools and various administrators.
The award includes a cash prize of $2,500 contributed by the Nashville Vanderbilt alumni chapter, an engraved pewter cup as a permanent trophy, and one year's custody of the Tiffany and Co. silver bowl that bears the names of past recipients.
Joining Wente for the presentation was Melissa Hodges Smithson, president of the Nashville Vanderbilt  chapter, who noted that truly great professors such as Middagh make lasting meaningful contributions to their students' careers and lives.