Images of boxing and black masculinity focus of Goldberg Lecture Oct. 17
Oct. 14, 2019, 11:46 AM
History of Art alumna to lecture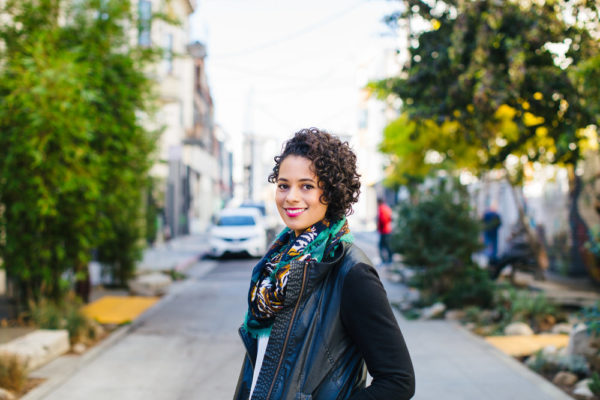 Jordana Moore Saggese, BA'01, associate professor of American art at the University of Maryland, will analyze 20th-century representations of black male boxers across visual culture when she delivers the Norman L. and Roselea J. Goldberg Lecture on Thursday, Oct. 17.
Saggese's talk, "On the Ropes: Boxing and Black Sexuality in American Art," begins at 4:10 p.m. in 203 Cohen Memorial Hall. Her work centers on modern and contemporary American visual culture with an emphasis on expressions and theorizations of blackness.
"Without an understanding of how black masculinity is constructed in the visual realm, we fail to grasp how legacies of oppression and stereotypes continue to resonate across generational, geographical and political lines," Saggese said.
She will explore two questions in her presentation. First, how do images of black athletes help to circulate racial and gendered stereotypes of the black male body, and simultaneously shore up the ideology of whiteness? Second, how have African American artists deployed images of athletes in order to interrogate the social positions of black men more broadly?
Saggese, who is editor-in-chief of the College Art Association's Art Journal, has written extensively on Jean-Michel Basquiat and his painting practice. Her first book, Reading Basquiat: Exploring Ambivalence in American Art, received the PEN Center USA Award for Exceptional First Book in 2015. She has a forthcoming book, The Basquiat Reader: A Critical Anthology, which will be part of the Documents of Contemporary Art series. Her current book project, "Game On: The Black Male Boxer in America," highlights themes of blackness, masculinity and sport.
Saggese, who majored in fine arts at Vanderbilt, earned her master's degree and doctorate in history of art at the University of Illinois at Urbana-Champaign. A reception will follow her talk in the Cohen atrium.
Sponsored by the Department of History of Art, the Goldberg Lecture is free and open to the public. Parking is available in all non-reserved spaces in Lot 95 near Cohen Memorial Hall. For more information, call 615-322-2831.